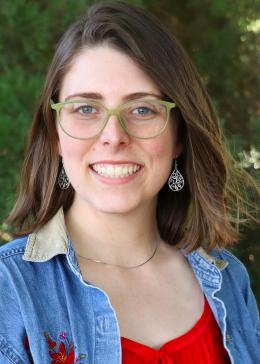 Alumni
Former graduate assistant
Based In
Davis, California (USA)
Hallie Casey worked as a graduate assistant on the communications team, while pursuing a master's degree in International Agricultural Development at UC Davis. In that role, she spearheaded the program's video projects and provided additional communications support related to the website, blog, and factsheets.
Hallie is passionate about agricultural storytelling and education. While earning her master's degree in International Agricultural Development at UC Davis, she worked in four communities in western New Mexico on Indian Country and in adjacent municipal areas with the goal of understanding the role of community gardening and plant science education. Prior to working at the Horticulture Innovation Lab, Hallie was a research assistant in a soils lab, volunteer coordinator for the Texas-based environmental non-profit Discover Green, and has worked on several farms as a field hand. Hallie spent time growing up on a cattle ranch in Texas and a row crop farm on Wisconsin, but has always had a passion for horticulture. She is a member of Pi Alpha Xi and a proud 4-Her.
Originally from central Texas, Hallie earned her bachelor's degree in agribusiness with a concentration in horticulture from Texas State University.
Favorite fruit:
I have great memories of climbing litchi trees in northern India and eating far too much litchi fruit.
Little-know award:
First place presentation at the FIRST Lego robot competition (7th grade)
What is your favorite travel tip?
Pack clothing items in zip bags, roll them up, and then seal them as tightly as possible. Saves so much space, and keeps things organized!
Organization(s)