Horticulture, micronutrients and nutrition will play an important role at this year's World Food Prize events and Borlaug Dialogue International Symposium, October 12-14 in Des Moines, Iowa.
This year's World Food Prize laureates — Maria Andrade, Robert Mwanga, and Jan Low of the International Potato Center (CIP) and Howarth Bouis of HarvestPlus — were selected for their work with bio-fortification and orange-fleshed sweet potatoes, which provide a Vitamin A-rich alternative to other sweet potato varieties traditionally eaten in parts of Africa.
Accordingly, the theme of the Borlaug Dialogue will be "Let Food Be Thy Medicine" with an emphasis on the crucial role of nutrition in global food security.
Panel at Borlaug Dialogue Symposium
The Horticulture Innovation Lab's director, Elizabeth Mitcham, will contribute to that discussion as a speaker at the Borlaug Dialogue. She will be part of a UC Davis World Food Center panel on "The Availability of a Healthy Global Diet and Progress on Food and Nutrition Security" along with Lawrence Haddad of the International Food Policy Research Institute, Emily Hogue of USAID, Pietro Gennari of the UN Food and Agriculture Organization, and Marie Chantal Messier of Nestle. Moderating the panel will be Josette Lewis of the UC Davis World Food Center.
According to organizers, the panel will discuss questions of complexity and metrics related to nutrition security:
We are what we measure. The United Nations moved from eight Millennium Development Goals to 17 Sustainable Development Goals, reflecting a new diversity of development priorities. As stakeholders gain understanding of the factors that impact food and nutrition security—from climate change, the role of women, sanitation, to the importance of a nutritiously-dense, diverse diet—how too should measures of progress evolve?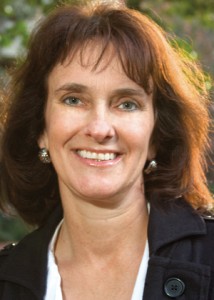 "I'm excited to have the opportunity to address this prestigious gathering," Mitcham said. "The theme of this year's meeting is very appropriate to the mission of the Horticulture Innovation Lab and our network."
The panel is scheduled to begin at 2:20 p.m. (PDT) on Wednesday, Oct. 12, and will be streamed online. See the event agenda for more details.
The concept of "Let Food Be Thy Medicine" is a familiar one to the Horticulture Innovation Lab. A series of Horticulture Innovation Lab projects focused on strengthening the value chain for African indigenous vegetables were prompted by doctors from the AMPATH health system in Kenya encouraging their patients to eat and grow nutritious vegetables. The current version of this project is focused on improving nutrition with African indigenous vegetables in Kenya and Zambia, with researchers from Rutgers, Purdue University, Eldoret University, University of Zambia and the World Vegetable Center.
The program has also funded a team of researchers led by Tuskegee University working with many Ghanaian partners to strengthen the value chain for orange-fleshed sweet potatoes in Ghana, to improve access to Vitamin A-rich foods. The team worked to expand access to clean plant materials for propagation, trained women to process sweet potato flours for baking and formulated a weaning food with this nutritious ingredient.
More information: