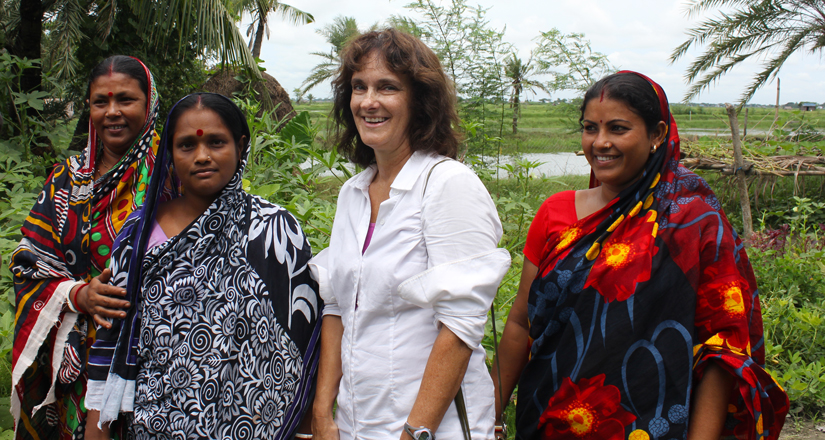 Elizabeth Mitcham, UC Davis scientist, was honored by the American Society for Horticultural Science (ASHS) as its Outstanding International Horticulturist for 2015.
She accepted the award Aug. 4 at the ASHS annual conference in New Orleans. The award recognizes distinguished contributions to horticultural sciences for 10 years or more, with emphasis on international activities and impacts.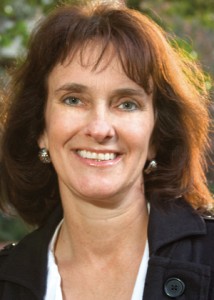 At UC Davis, Mitcham is director of both the Horticulture Innovation Lab and Postharvest Technology Center programs. As director of the internationally recognized Postharvest Technology Center, she has helped train professionals from more than 40 countries in how best to care for fruits and vegetables after harvest, to reduce food waste and improve food quality. She has hosted numerous foreign scientists and students in her lab at the UC Davis Department of Plant Sciences, where her research focuses on the regulation of fruit ripening, understanding calcium deficiency disorders, and maintaining fruit quality after harvest.
Mitcham also leads the Horticulture Innovation Lab, which targets fruit and vegetable research in developing countries to reduce poverty and improve nutrition. Her leadership helps build international partnerships between scientists and develop technologies that meet the horticultural needs of smallholder farmers. The program is funded by the U.S. Agency for International Development as part of Feed the Future, the U.S. government's global hunger and food security initiative.
"I've really become passionate about what horticulture can bring to reducing poverty and improving lives," she said. "Meeting people who are now able to send their children to school or buy books—those one-on-one interactions are what really stick with me. It is so rewarding to be able to work in this field."
Mitcham holds degrees in horticulture from the University of Maryland (Ph.D. and B.S.) and North Carolina State University (M.S.). She joined UC Davis faculty in 1992 as a UC Cooperative Extension specialist in pomology and postharvest biology.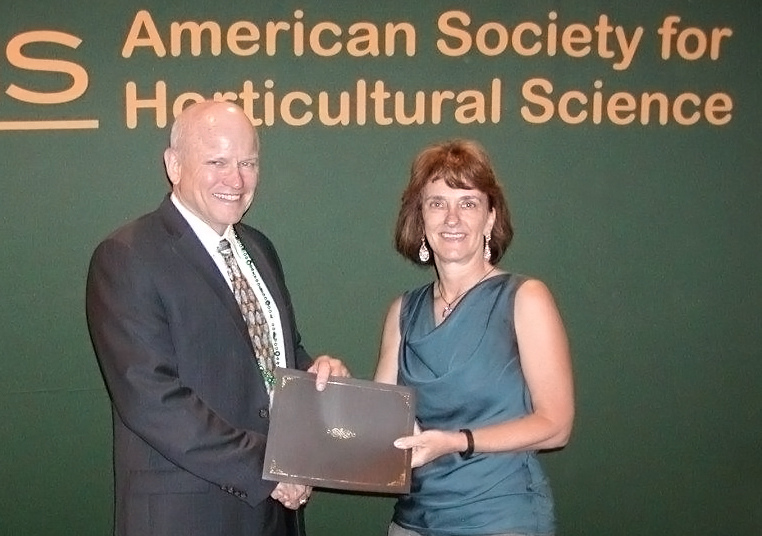 Comments on her selection
Among her nominators at UC Davis was Chris van Kessel, chair of the Department of Plant Sciences, who praised Mitcham as a shining star in the department:
"Not only are her accomplishments significant within California and the United States, but her research, education, and outreach contributions are equally as impressive to the international horticultural science community. She works closely with the industry, and is nationally and internationally recognized as one of the most knowledgeable scientists on postharvest technology in several fruit and vegetable commodities."
Another supporter of her nomination hails from New Zealand, where Errol Hewett of Massey University wrote:
"Dr. Mitcham has established herself as a highly significant international scientist whose research and administrative skills and ability have made important and long lasting contributions to human knowledge, to education and to the role of horticultural science as a means of reducing poverty, improving health and nutrition and enhancing the role of women in developing countries…. She has provided inspiration and hope to many educators and students of horticultural science, and through them, to farmers producing fruit, vegetables and flowers in developing countries."
A past recipient of the award, George Wilson from North Carolina State University, also praised the selection for this year's award.
"Beth's strong leadership in the Horticulture Innovation Lab since its beginning complements her already well established international horticultural reputation," he said. "I think that Beth is unquestionably the right person to receive this award this year."
Marita Cantwell, UC Cooperative Extension postharvest specialist, led the nomination process for Mitcham, highlighting her "leadership, generosity, and tireless efforts."
ASHS promotes and encourages national and international interest in scientific research and education in horticulture. The professional society has more than 2,500 members in all 50 U.S. states and in 60 countries around the world.
More: