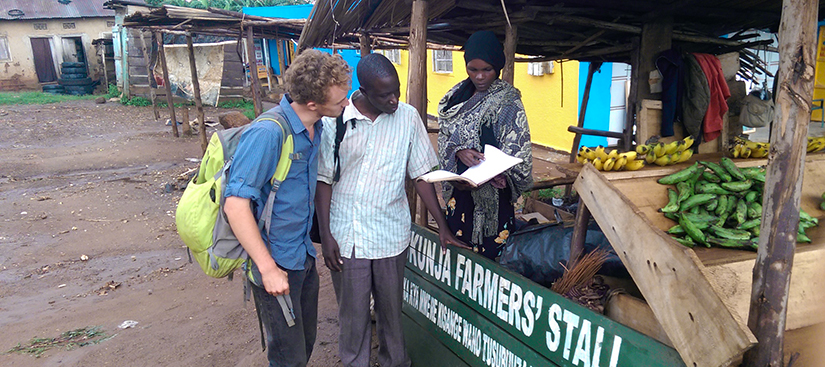 by Katie von der Lieth, Horticulture Innovation Lab
The Horticulture Innovation Lab invites organizations in developing countries to compete for new Trellis Fund grants up to $4,000 each for 6-month projects, to extend horticultural information to local farmers and stakeholders along fruit or vegetable value chains.
Project proposals may address horticultural crop production, irrigation, plant nutrition, pest management, postharvest practices or marketing issues in relation to fruits and vegetables. Once projects are selected, the Trellis Fund will connect organizations with U.S. graduate students who have related agricultural expertise for project support.
Both new organizations and previously awarded organizations are encouraged to apply. Organizations based in these countries are eligible to apply:
In Africa: Ethiopia, Ghana, Liberia, Malawi, Mozambique, Rwanda, Senegal, Tanzania, Uganda and Zambia
In Latin America and the Caribbean: Guatemala, Haiti and Honduras
In Asia: Bangladesh, Cambodia, Nepal, and Tajikistan
Since 2011, Trellis Fund projects have reached more than 7,396 farmers worldwide. This new call for proposals represents a sixth round of funding, for projects that will begin in 2018.
Increased funding for new and old partnerships
Grant size has doubled for this new round, so that organizations can now receive up to $4,000 in Trellis funding.
New projects will receive supplemental financial support to cover indirect project costs beyond the $4,000 award. Indirect costs can include administrative or operational costs not associated with the direct cost of executing the project. For more details, please review the budget worksheet (xlsx).
Another noteworthy highlight is that both new organizations and previously awarded organizations are encouraged to apply for this round of Trellis funding.
"In an effort to build continuity and increase project impact, previously funded organizations are encouraged to apply," explained Elyssa Lewis, UC Davis graduate assistant and Trellis Fund coordinator. "For organizations that we have previously funded we would like to see how these projects can incorporate lessons learned or how they will build on previous projects."
The goal of the Trellis Fund is to connect local organizations in developing countries with U.S. graduate students who have agricultural expertise, generating benefits for both the students and the in-country institutions. Together, they collaborate on short-term projects to address horticultural challenges faced by local farmers.
Proposals are due by April 3, 2017. Please see http://horticulture.ucdavis.edu/main/trellis.html for details and directions.
Please share this information with organizations that you think may be interested in applying for a Trellis Fund grant.
The Trellis Fund is managed by the Horticulture Innovation Lab at UC Davis, in partnership the University of Florida; University of Hawaiʻi at Mānoa; and North Carolina State University. The Horticulture Innovation Lab is funded by the U.S. Agency for International Development, as part of Feed the Future, the U.S. government's global hunger and food security initiative.
Related: