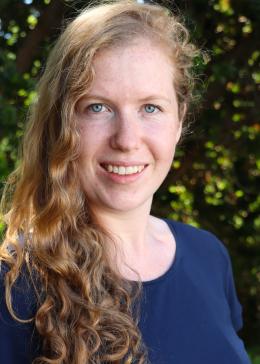 Alumni
Former graduate assistant
Based In
Davis, California (USA)
As a graduate assistant for the Horticulture Innovation Lab, Marieke was involved in trainings for the chimney solar dryer and research on market opportunities for dried produce. She also worked on reporting for the Horticulture Innovation Lab's international projects and for the Trellis Fund.
Marieke is pursuing a Ph.D. in Agricultural and Resource Economics at UC Davis, where she hopes to incorporate international agriculture and horticulture into her research.
She began working with agriculture and nutrition with MEASURE Evaluation at the University of North Carolina at Chapel Hill (UNC-CH). Then as a Peace Corps Volunteer in Paraguay, she also focused agriculture and food security, before moving to Purdue University to study agricultural economics. As a graduate student, she was involved in a baseline study of the cacao sector value chain in Colombia with USDA, as well as a water sanitation infrastructure project in the Dominican Republic. 
Marieke holds a master's degree in agricultural economics from Purdue University and a bachelor's degree in public policy from UNC-CH.
Organization(s)