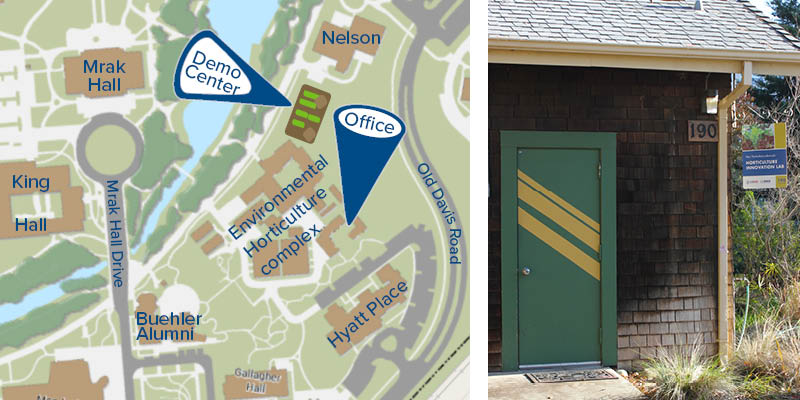 Visit our demonstration center
The Innovation Lab for Horticulture has an outdoor demonstration center on the UC Davis campus that is open to visitors. The demonstration center showcases technologies and practices used by the Innovation Lab for Horticulture's network of researchers with small-scale farmers in developing countries.
It is also a place where students, faculty and staff can test and demonstrate new horticultural tools — and was inspired by the Innovation Lab for Horticulture's Regional Centers that serve farmers elsewhere in the world.
Find the demonstration center on the campus map, located on the edge of Solano Field and Arboretum Drive, near the Environmental Horticulture buildings.
Campus office location
Room 190 of the Environmental Horticulture buildings is the Innovation Lab for Horticulture's small office, near the demonstration center. Find the office on the campus map. 
The UC Davis campus is in Davis, California, about a 20-minute drive away from Sacramento and a 90-minute drive away from San Francisco.
Mailing address: Horticulture Innovation Lab / UC Davis / One Shields Avenue / Davis, CA 95616-5270 USA
The general office phone number is (530) 752-3522, and inquiries can be sent to horticulture@ucdavis.edu. See the management team directory for individual contact information. 
UC Davis affiliations and networked researchers
The Innovation Lab for Horticulture U.S. management team is part of the Department of Plant Sciences and closely associated with the International Programs Office, within the College of Agricultural and Environmental Sciences. 
Many of the students who work in the Innovation Lab for Horticulture's office are pursuing degrees in International Agricultural Development (UC Davis offers both a bachelor's and a master's degree in this program of study).
UC Davis researchers lead a number of the Innovation Lab for Horticulture's research projects, which are awarded competitively to a wide variety of U.S. university researchers. See a complete list of UC Davis principal investigators, collaborators, staff and students who are part of the program's network.