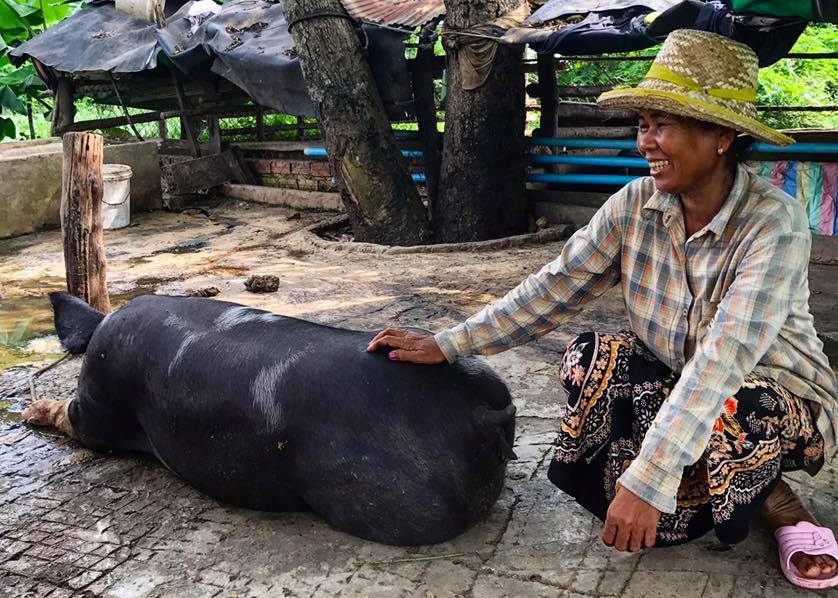 Project Description
Project goal: To understand how integrated animal-horticulture systems are most feasible for smallholders by rigorously addressing — through interdisciplinary research — the potential of these systems with regard to sustainable production capacity, income generation, and gender dimensions.
A majority of Cambodian farmers are considered smallholder farmers, with less than two hectares of farm land per household. Many such smallholder farmers choose to have mixed farming systems, with a combination of vegetable crops, rice, and/or livestock. While a "mixed farming system" allows farmers to diversify their production, an "integrated farming system" also seeks to recycle resources efficiently between the various farming activities. In an integrated farming system, products or by-products of one agricultural activity serve as a resource for the other. Due to the complexity and interdependent nature of an integrated farming system, optimizing aspects of production, income, and resource recycling can be difficult.
For Cambodian farmers, horticulture crops offer many opportunities to improve quality of life, particularly among women farmers. However fruit and vegetable crops have production challenges which arise from concerns over input costs, food safety, high perishability, and the potential for increased labor burden on women.
Livestock production can potentially provide several inputs for horticultural production, such as labor in the form of draft animals, fertilizer, and utilization of forages and feed not meant for human consumption. But managing livestock has its own input requirements, which are often expensive, laborious or time-intensive. Furthermore, livestock are commonly associated with foodborne or zoonotic pathogens that can contaminate household environments and produce negative public health outcomes.
For this project, Kansas State University, the Royal University of Agriculture (RUA), the University of Battambang (UBB), and Agricultural Development Denmark Asia (ADDA) will collaborate to investigate and develop a framework for the integration of livestock (cattle and pigs) into vegetable crop production that uses conservation agriculture practices in Cambodia.
The international team's goal is to analyze the trade-offs inherent to such vegetable crop-livestock integration, with a focus on three criteria:
resource conservation
income generation
gender and nutrition (women's empowerment, women's labor requirements and household dietary diversity)
The team will start with an evaluation of current practices in Cambodia, to identify appropriate strategies for crop-livestock integration. The team will also conduct research at two technology parks with the Center of Excellence on Sustainable Agricultural Intensification and Nutrition (CE SAIN) in rural Battambang and in peri-urban Siem Reap. Research in the technology parks will focus on evaluating the impact of integrated horticulture-livestock systems in: resource conservation, horticultural production, livestock production, and food safety.
Project outputs will include extension and policy brief documents:
an integration framework
an extension decision support tool
a trade-off analysis
These documents will help equip farmers, extension agents, researchers, policy makers, and others with useful information and recommendations to evaluate integration strategies best suited for various situations and farming operations.