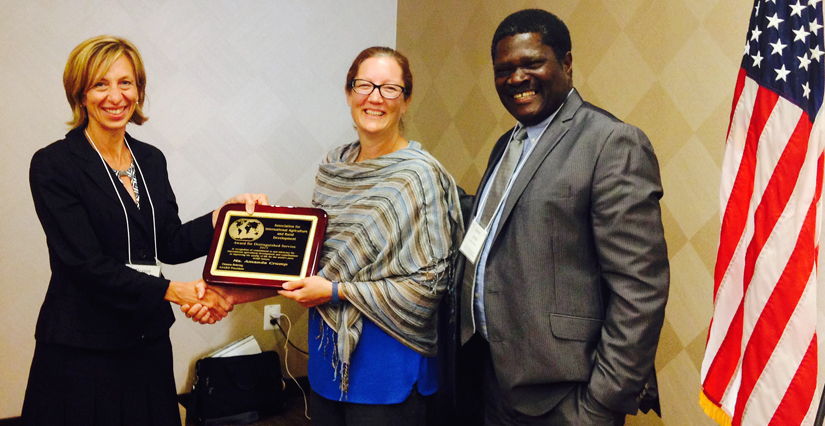 Amanda Crump, our program's associate director, was honored recently by the Association for International Agriculture and Rural Development (AIARD) with its Award for Distinguished Service.
The award honors public service and major contributions to the association's objectives — namely, improving global capacity to eliminate poverty, improve food security, conserve the environment, and stimulate economic growth. The award was presented at the AIARD Annual Conference, June 1 in Washington, D.C.
As the associate director for the Horticulture Innovation Lab at UC Davis, Crump leads the program's gender equity focus and is responsible for monitoring a portfolio of research projects. Her own research focuses on novel practices for agricultural extension education for farmers — particularly women — in developing countries. She also leads the UC Davis portion of a multi-university program focused on integrating gender and nutrition into agricultural extension services in several countries, called INGENEAS.
Crump has served as the secretary-treasurer of AIARD. In 2005, she participated in the AIARD conference as a  "Future Leader" and in 2010, she received the AIARD Young Professional Award for early career contributions.
"She personifies all that is envisioned in a Future Leader by dedicating her professional life to public service that advances international agriculture and rural development through assuming increasing responsibilities and providing leadership in the Horticulture CRSP (now Innovation Lab)," wrote Richard Rortvedt, of the Center for Tropical Agricultural Research and Higher Education (CATIE) and an AIARD officer, in support of her nomination.
Crump holds a B.S. in Agricultural Education from the University of Idaho and an M.S. in Plant Pathology and Weed Science from Colorado State University. She is also a Ph.D. candidate in Education at UC Davis.
More: