Description
Fundraising and grant writing workshop for Trellis Fund organizations
This presentation was delivered by Megan Mayzelle at the Horticulture Innovation Lab's Trellis Fund Summit, held March 25-28, 2019, in Washington, D.C.
Mayzelle's workshop provides an overview of funding opportunities for local, in-country organizations interested in applying for international and national grants in horticultural and agricultural development. The workshop included several activities that promoted dialogue and discussion around participating organizations' skills and previous experiences with fundraising and grant writing.
Mayzelle began the presentation with a brief introduction about her own background in international development and fundraising. She then described the start-up organizations in the room and asked each organizational representative to introduce their work as if they were interacting with a potential donor and to outline one goal that they hoped to accomplish during her workshop. 
Identifying alternative funding opportunities, other than grants
Local organizations often rely on grant funding to support ongoing and core organizational activities. But grants often narrowly define what an organization can spend their money on, cannot be used for staff salaries and often come with heavy reporting and compliance requirements.
Thus, in order to diversify and stabilize funding flows, Mayzelle summarized some alternative funding sources for local organizations that could complement grant funding. These alternatives included collaborations with Peace Corps and Farmer-to-Farmer for staffing support, identifying start-up funding that would support a sustainable business model, loans and unrestricted funds through crowdfunding or other income generating activities and events to fund programming.
Evaluating grant opportunities and planning for grant applications
Mayzelle provided a comprehensive overview of the variety of donors and collaborating organizations that local organizations could partner with or seek funding from as local implementing partners in their communities including:
Large donors:
Implementing Partners:
Large multinational organizations

Large companies

Universities
Small donors:
Funds

Foundations

Centers
Mayzelle pointed out that small organizations are highly unlikely to win grants directly from large donors, and applications are extremely time-consuming. Instead, she encouraged small start-ups to monitor large funders to stay updated on what projects are occurring in their region and to network locally to learn about sub-grant opportunities. She also stated that small donors generally prefer awarding grants to small organizations, but they rely more on trust and tax exemptions. 
Mayzelle then presented an in-depth guide to preparing for grant applications that spanned the cycle of building networks, monitoring funding opportunities, developing a project plan and writing proposals.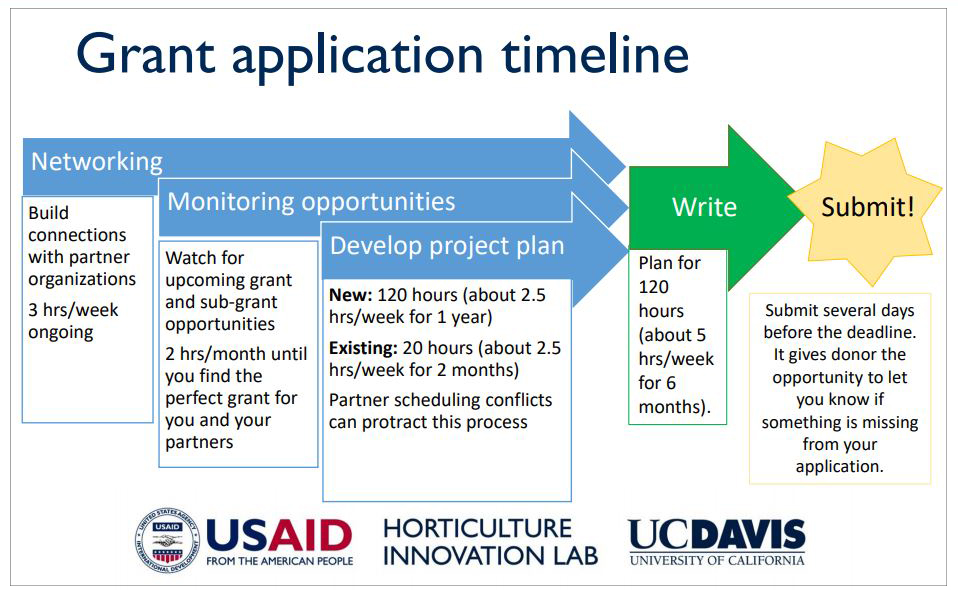 Grant application strategies for local organizations
Mayzelle stressed the importance of being selective and strategic in grant applications so that organizational resources are only targeted to grants which offer higher rates of success and not squandered on grants that organizations only have a slim chance of procuring. She presented a series of strategies and types of partnerships that ensure eligibility, including:
Identifying grants where local organizations are eligible — including whether the organization has the staff, expertise, time and infrastructure to complete the scale of a project within project time and funding requirements.

Focusing on grants worthy of going through the work of an application process by searching online for a funder's application success rate, first-time applicant success rate, past year winners and values.

Performing a cost-benefit analysis of whether the staff time dedicated to the grant is worthy of the grant's potential pay-off. (Mayzelle includes a formula to calculate this in her presentation.)

Planning a grant application schedule one year ahead so that organizations can effectively monitor important deadlines.

Seeking tax status in donor countries through organization branch offices.

Partnering with larger multi-national organizations as a sub-awardee.

Identifying a fiscal sponsor.
Project planning and grant applications
The process of project planning should begin before a grant application is identified. In her slides, Mayzelle provides a project planning process and a set of proven methodologies for project design intended to support and streamline grant applications. These methodologies include the Climate Smart Agriculture Plan (CSA-PLAN), the logical framework, a monitoring and evaluation framework and a risk assessment and work plan.
Mayzelle states that grant applications should closely follow the guidance provided by the donor, align methodology with language, leverage key resources to offer expertise and explicitly address challenges. She also notes that grant budgets should include matching funds, overhead funds and a detailed budget breakdown. She includes characteristics of a great budget and budgeting best practices in the presentation slides.
Importance of building a network to secure grants and funding
Mayzelle concludes her presentation with an overview of the importance of networking to developing sustainable funding pathways. Networking provides the opportunity to learn about additional applications, enables long-term partnerships for projects and can inform ongoing project design and collaboration. Networking also ultimately promotes trust. During the workshop Mayzelle conducted an activity to encourage organizations to begin to identify ways to expand their networks, and the presentation slides include detailed recommendations for good networking practices.