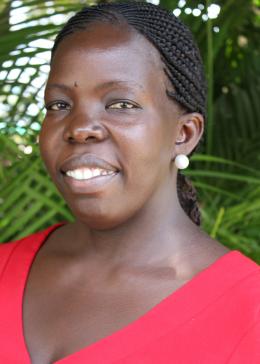 Alumni
Betty Ikalany is the executive director of Teso Women Development Initiatives (TEWDI Uganda).
At TEWDI Uganda, she is responsible for developing, planning, implementing and evaluation of strategic plans for the organization. She also oversees the day-to-day operations, monitoring adherence to organizational policies and resources, ensuring compliance of staff and partners to systems, policies and procedures while building and strengthening networks, coalitions and relationships with stakeholders.
Before joining TEWDI Uganda, she worked as a project coordinator with Health Need Uganda where she had six years of successful supervisory and management work overseeing four districts in Teso sub-region. Her mission is to improve the livelihoods of Ugandan women who are the primary care providers and food producers in the country. Her research looks at how inclusion of women  in irrigated horticulture is important in improving women's livelihoods.
Ikalany has a master's degree in Women, Gender and Development from the International Institute of Social Studies in The Hague, Netherlands, as well as a bachelor's degree in Social Work and Administration from Makerere University in Uganda. 
When I'm not working, you can find me ...
At home with my children
Favorite fruit:
Mango
Favorite vegetable: 
Cabbage
Organization(s)