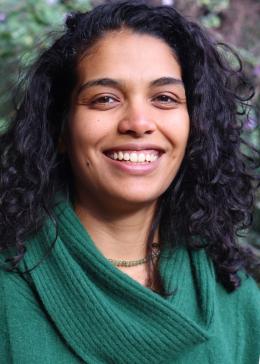 Alumni
Based In
Santa Cruz del Quiché, Guatemala
While working as the chief of party for the Horticulture Innovation Lab's MásRiego project, Débora Rivera managed the consortium between the Horticulture Innovation Lab, Kansas State University, the Panamerican Agricultural School, Zamorano, and the Centro de Paz Bárbara Ford. She worked with collaborators to create a successful agriculture extension strategy that is applicable in the Western Highlands of Guatemala.
Debora's mother and six aunts were subsistence farmers, inspiring her passion for agriculture and women working the soil. Throughout her career, Debora has worked in Germany, Panama, and Guatemala. She has experience in project development and management, especially projects related to agriculture. While working as a constultant for the City of Knowledge Foundation, she developed the first successful agroecological farmers market in Panama City, which gather producers all nine provinces to Panama City. In Guatemala, she has worked as a consultant focused on agroecology, supporting economies and local markets for the German Cooperation and other associations in the Western Highlands.
Debora speaks Spanish, English, and German. She earned two master's degrees from the Technological University Hamburg-Harburg (TUHH), in Germany: a Master of Science in Environmental Engineering and a Master of Technology Management from the Northern Institute of Technology Management at TUHH. She also holds a bachelor's degree in environmental engineering from the Technological University of Panama.
Favorite fruit:
Coco! I am a woman from the tropics.
Favorite agricultural advice?
Never forget for whom you are working for. Your Ego is not your Amigo.
When I'm not working, you can find me … 
In nature, doing tai-chi, or yoga!
Organization(s)