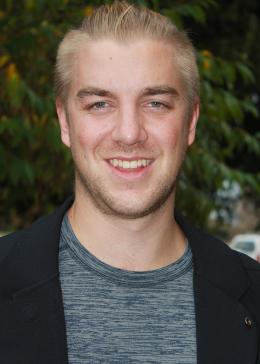 Alumni
Gabriel Wyland served as chief of party in Guinea for a Horticulture Innovation Lab project focused on establishing a horticulture training and services center.
Before working for the Horticulture Innovation Lab, he previously served with Peace Corps in Guinea and in Mali and has experience working in West African agribusiness. He has a passion for guiding youth in agricultural practices and techniques. He has spent time in Camoroon, Mali, and Guinea working in all areas of the agriculture value chain. 
Gabriel holds bachelor's degrees in Economics and English from the University of Wisconsin-Madison, where he also worked with hop farmers.
First international travel experience:
My first international travel was to Costa Rica. It is there I fell in love with fresh fruit and realized pineapples out of the field are much better than any you can find in supermarkets of Minnesota.
The best way to eat pineapple:
Under the stars after a West African rain when the sky is clear and crisp.
Favorite agricultural advice:
Petit a petit, l'oiseau fait son nid. 
(Little by little, the bird builds its nest.)
Organization(s)