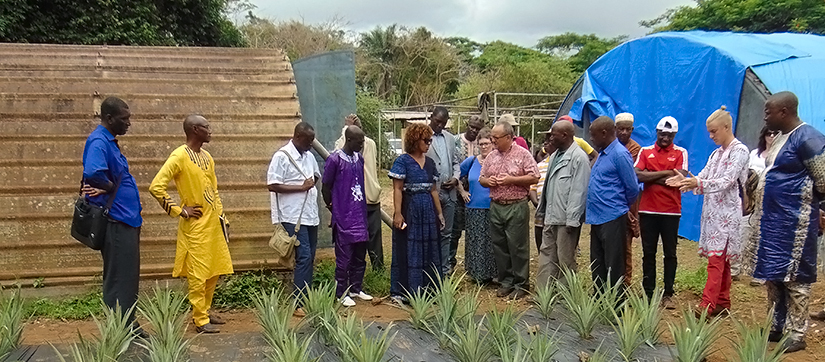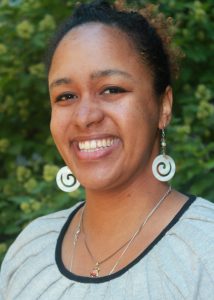 Editor's note: Andra Williams recently completed work in Guinea as a UC Davis staff member with the Horticulture Innovation Lab (see details at the end of this post about our new team member in Guinea). In the wake of Ebola, the Horticulture Innovation Lab was asked to evaluate fruit and vegetable opportunities for West African farmers in Guinea. The resulting "Rapid Assessment of the Horticulture Sector in Guinea" report made several recommendations for ways to provide support to the country's farmers — and the Horticulture Innovation Lab team was invited to share some of its existing horticultural knowledge by starting a new center in the district of Kindia. Here, Andra shares her experiences and accomplishments from working in Guinea.
Agriculture in Guinea has faced many challenges in recent years, with political instability and health crises, such as the recent Ebola outbreak, limiting agricultural research and farmer training.
In April I was sent to work in Foulayah, Guinea, as a project manager for the Horticulture Innovation Lab, tasked with establishing a farmer service and training center in the Kindia district, at the Centre Régional de Recherche Agricole de Foulayah (CRRAF), part of the government's national agricultural research institute (Institut de Recherche Agronomique de Guinée or IRAG). Our goal was to create a local training center devoted to introducing farmers nearby to horticultural production tools and postharvest technologies by creating training modules for the community, including individual producers, women groups and farming cooperatives.
To get started, I hired four "AVENIR agents" to work with the Horticulture Innovation Lab and help establish this new center. AVENIR stands for Agents en Vulgarisation, Entrepreneuriat et Innovation Rurale,or "agents of extension, entrepreneurship and rural innovation." The AVENIRs are part of a USAID-funded program that is a collaboration between Winrock International and Cultivating New Frontiers in Agriculture (CNFA) to train young, motivated individuals in entrepreneurial, business and marketing skills in the agricultural sector.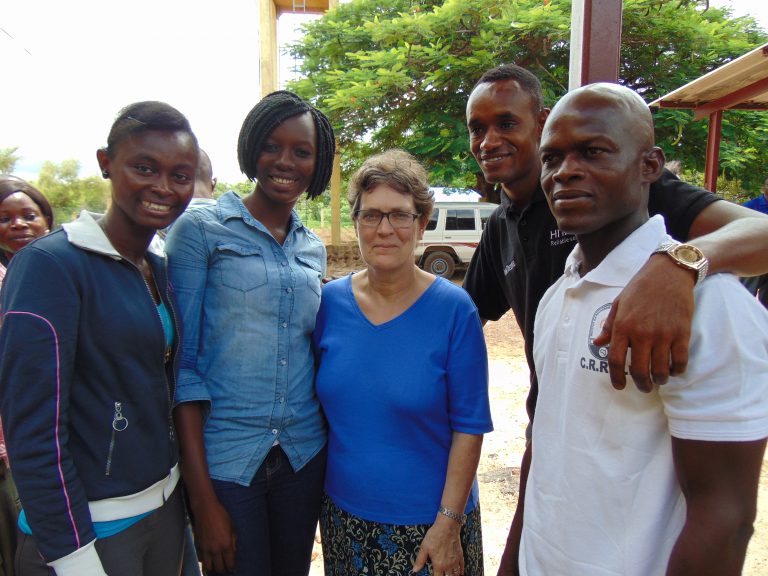 With the help of our four AVENIR agents — Fatoumata Cissoko, Mamadou Kann, Paul Lamah and Kadiatou Sidibé — we began working to set up a training center that will focus on postharvest and horticultural technologies that have already been proven useful by other Horticulture Innovation Lab projects. The AVENIRs have experience in agronomy, soil science, accounting, small business management and social science. They will need to use all of these skills to engage with the community as extension agents for our new center. Our agents will work with us to learn about these technologies and then help train and market these technologies to the surrounding Kindia community.
We have already made quite a bit of progress, setting up a demonstration garden area and two greenhouse nurseries. First, we identified a small plot of land on the CRRAF campus to plant eight varieties of fruits and vegetables: eggplant, okra, peppers, carrots, lettuce, cucumbers, tomatoes and watermelon, all of which have value as market crops. By creating our own garden space, we can use it to demonstrate technologies like drip irrigation and plastic mulch. Once harvested, we can use the fruits and vegetables to demonstrate postharvest technologies such as the CoolBot and chimney solar dryer.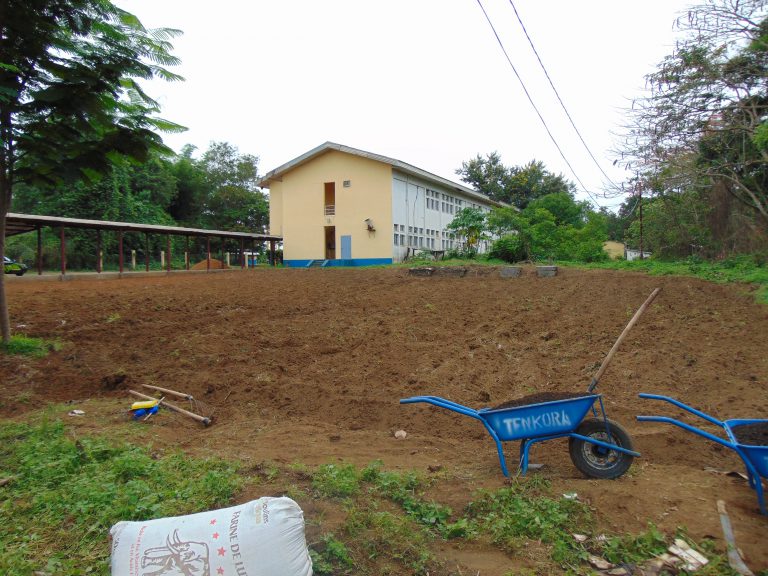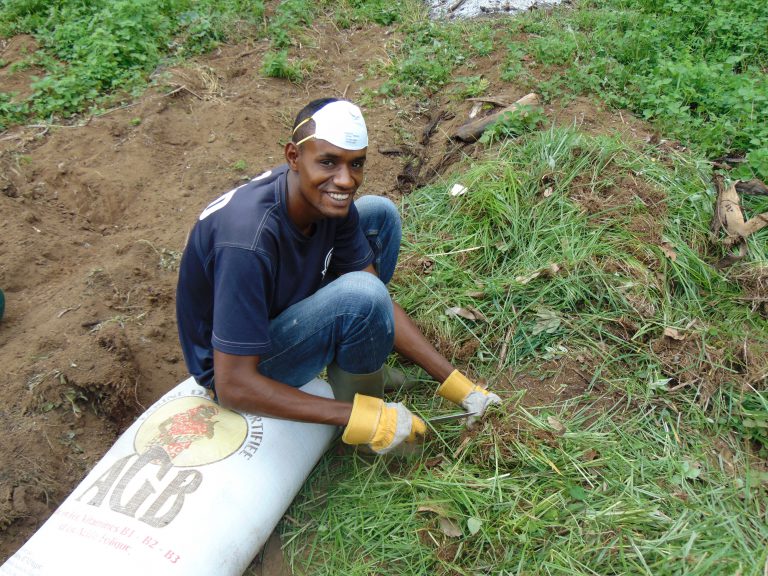 We built our first chimney solar dryer, with the help of Angelos Deltsidis, Horticulture Innovation Lab postharvest specialist. The chimney solar dryer was designed by UC Davis researchers to dry fruits and vegetables more efficiently than traditional solar dryers, for farmers to use in developing countries.
Angelos also helped us install a CoolBot and air conditioner in an out-of-use cold storage room at CRRAF, to demonstrate this low-cost cold room with our garden's produce.
In the future, other technologies and practices related to reducing postharvest losses and maintaining food quality (such as the DryCard) will also be incorporated into the team's work.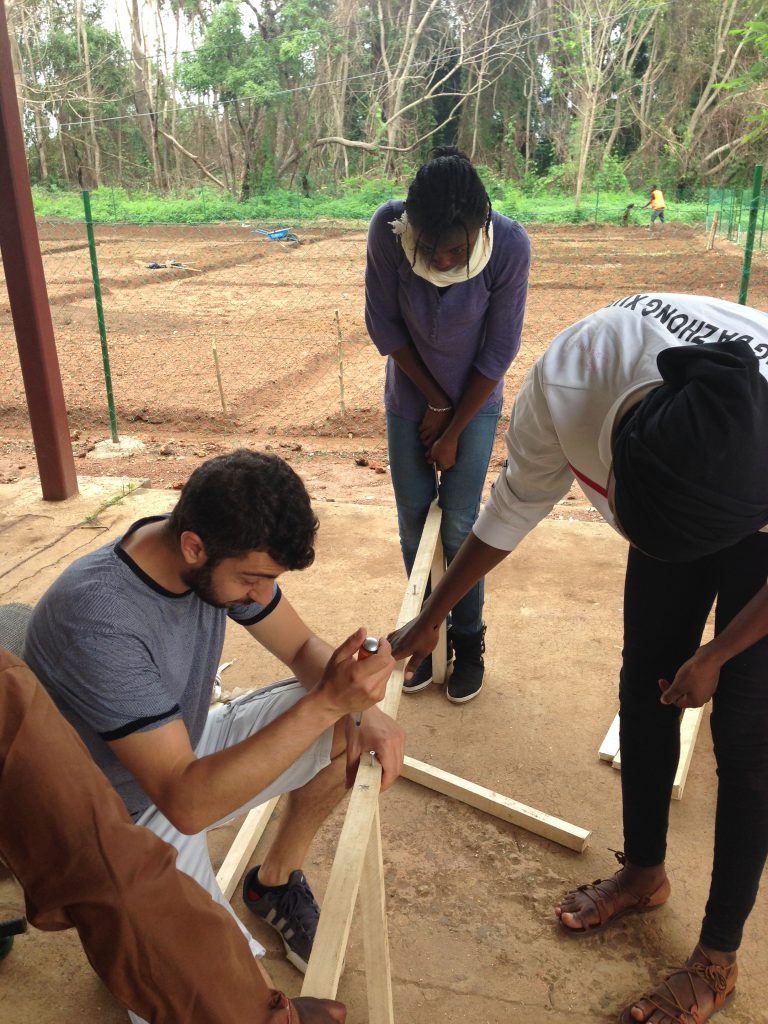 In addition, we planted a small pineapple plot which we covered in plastic, a practice that we hope local pineapple growers will adopt. The plastic ground cover helps pineapple farmers by reducing labor needed for weed control, while also maintaining soil humidity and temperature. While plastic cover has already been adopted in many West African countries where pineapple production is prevalent, like Togo and Benin, Guinea has yet to see a significant portion of pineapple growers adopt this practice. We would like to demonstrate that they can save time and money using this one simple technology, allowing for greater net profits in the end.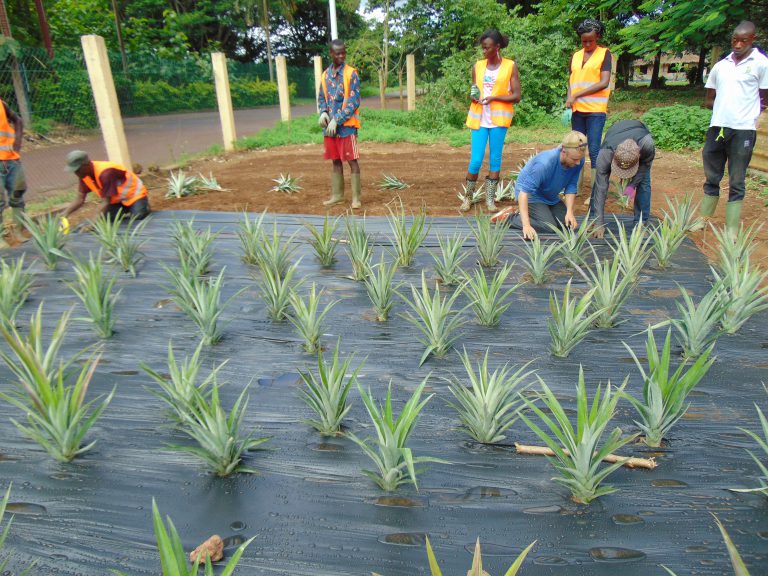 The team will also begin working with other technologies in the future such as drip irrigation, to share with local farmers. Educating growers on the importance of soil health and composting for increased organic matter will also be a focus.
The center will be used to train farmers, farmer groups, cooperatives, women's groups and businesses in the area on these horticultural technologies, while the AVENIR agents gain hands-on experience as extension workers. The Horticulture Innovation Lab and the USAID Mission in Guinea are discussing potential options for further supporting this new training center. The team hopes to create a place where those involved in the agricultural sector can come and receive training on how to use improved technologies that can reduce waste, boost production and increase income.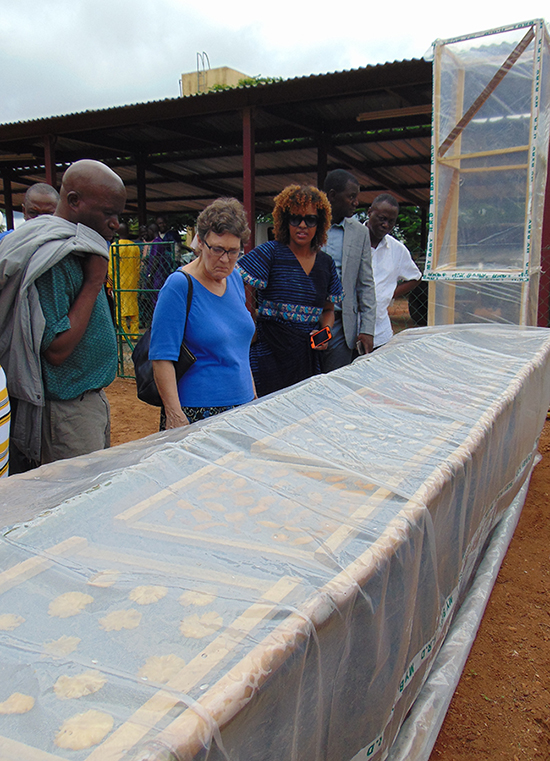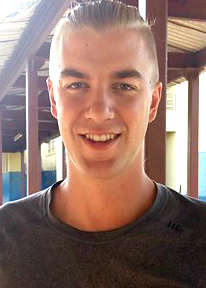 Editor's note: Joining the Horticulture Innovation Lab team and taking over where Andra left off is Gabriel Wyland, now serving as program representative in Guinea. He holds bachelor's degrees from the University of Wisconsin-Madison and first worked in agriculture on a hops farm in Wisconsin. Previous to joining the Horticulture Innovation Lab team, he served in the Peace Corps in Guinea and in Mali.
More information: