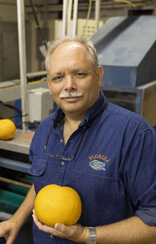 Alumni
Co-Principal Investigator
Based In
Gainesville, Florida
Dr. Mark A. Ritenour is a professor with the University of Florida (UF), Indian River Research and Education Center specializing in postharvest physiology and handling of fresh horticultural crops (especially citrus). With over 20 years of extension, research, and teaching experience at UF, his programs focus on improving pre- and postharvest practices to maximize delivered fresh fruit quality and ways to overcome potential market barriers (both domestic and international). He coordinates the annual "Packinghouse Day" and other training events and is actively developing and providing grower/packer/shipper training in food safety practices that assure consumers safe fruits and vegetables. He is a lead instructor for both the Produce Safety Alliance and Food Safety Preventive Control Alliance training curricula. He is co-instructor of two UF postharvest courses:
Principles of Postharvest Horticulture
Postharvest Technologies for Horticultural Crops.
Finally, he created and maintains the UF Postharvest Resources Website (http://irrec.ifas.ufl.edu/postharvest/) that includes links to numerous postharvest resources. He was a Co-Principal Investigator for a Horticulture Innovation Lab network project titled, "Developing training materials to improve postharvest practices in Honduras and Guatemala."
Dr. Ritenour's research interest include:
Reducing postharvest fruit decay through improved pre- and postharvest practices.
Reducing postharvest disorders (esp. citrus peel breakdown) through improved pre- and postharvest practices.
Developing pre- and postharvest methods to improve citrus peel color.
Evaluating fruit quality and shelf life of new citrus selections and identifying optimum handling and shipping conditions.
Developing a mobile, optical grading system to collect citrus fruit data from research plots throughout the state and identify and separate "healthy" vs. "defective/diseased" results.
Organization(s)