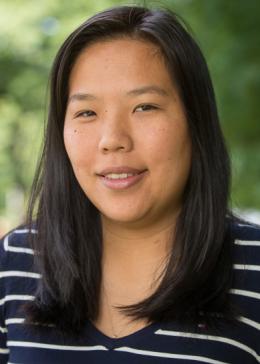 Alumni
Assistant Research Professor
Based In
State College, Pennsylvania (USA)
Paige Castellanos is an Assistant Research Professor at Penn State in the Office of International Programs, College of Agricultural Sciences. She is also the project manager of the "Empowering Women through Horticulture" project (also known as the Women in Agriculture Network (WAgN): Honduras project). In this role she works with researchers from Penn State and Zamorano, the Panamerican Agricultural School, to design, implement, and evaluate the potential for horticulture production to impact women and other marginalized smallholder farmers in Honduras. 
Castellanos focuses her research on gender, social inequities, and development, primarily in Latin America. She has also conducted research in Costa Rica and Peru, using her Spanish language skills to speak directly with rural community members and to learn about their lived experiences. As well, she has contributed to  Penn State's Gender Equity through Agriculture Research and Education Initiative that includes gender-integrated training for post-doctoral scholars and researchers in the Consultative Group for International Agriculture Research (CGIAR) network. 
She has a Ph.D. in Rural Sociology and International Agriculture and Development, an M.I.A. in International Affairs, and a B.S. in Applied French, all from Penn State University.
Favorite fruit:
Raspberries
Best thing about collaborating across borders:
Finding collaborators that are as passionate and dedicated to tackle issues of inequalities and forming friendships that will last long after projects end.
Most influential quote:
"Be a traveler, not a tourist." – Anthony Bourdain
Organization(s)