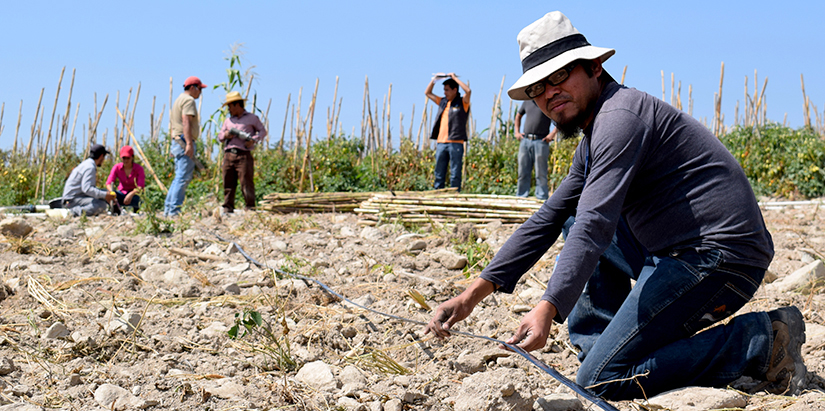 Editor's note: This blog post by Meagan Terry was originally a presentation given at the Horticulture Innovation Lab's 2017 annual meeting in Guatemala.
Terry is a UC Davis junior specialist who lives in Guatemala and manages the Horticulture Innovation Lab's MásRiego project, which promotes drip irrigation and climate resilience in Guatemala's western highlands.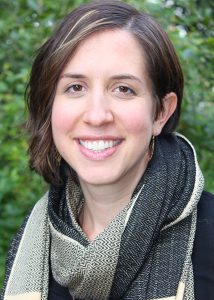 The name of our project focused on drip irrigation and climate resilience in Guatemala, MásRiego, literally means "more irrigation" in Spanish, but this project boasts more than simply installations of drip irrigation systems. Our project develops and implements a holistic, business-driven solution to result in wider availability of drip irrigation, conservation agriculture, improved water management, and vegetables. These activities are carried out while addressing social inclusion, technical capacity, nutrition, and asset building for all community members, especially women and youth.
Our goal is to convert 100 hectares of land in Guatemala's western highlands to more efficient means of irrigating and growing vegetable crops, with improved management practices. In addition, we will train thousands of technicians, youth, and farmers on how to use conservation agriculture principles and other agricultural practices that stress climate resilience in the face of changing rainfall and weather patterns. We have identified more than 1,000 potential beneficiaries who are eager to adopt drip irrigation in the 12 municipalities where we are working.
There have been some important lessons learned thus far in the project through talking with farmers and communities, which will determine the success of MásRiego implementation for smallholder farmers:
Local knowledge is key – not just agricultural, but social and political dynamics as well. The Centro de Paz Bárbara Ford plays a crucial leadership role in this project, as they have hired local youth promoters to be the "ears and eyes" of the project in the farming communities, many of which are hours away on dirt roads. Without their local leadership in this project, we would not have access to these farming families. Through their extensive connections built over decades, we have gained trust and information about barriers that exist for purchasing drip, implementing soil conservation, and involving youth and female members of the community.
There is no "one-size-fits-all" model that will work in the highland areas. Through our visits in communities it became clear that a drip irrigation kit for 200 square meter plots was not adequate: many have larger pieces of land they wish to irrigate, some may already own a tank, and each farmer has diverse needs. The reality we work in involves being flexible and adaptive, instead of promoting only one option for an improved water management and irrigation systems.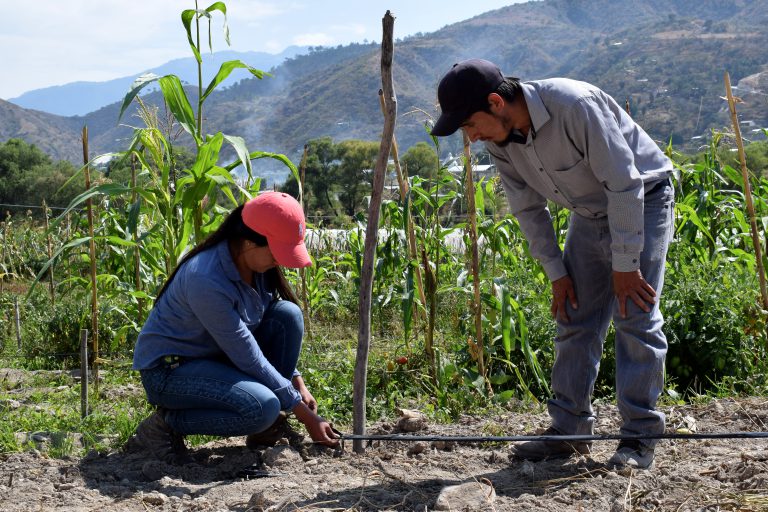 Access to water defines participation in the project and ability to start using a drip irrigation system. Many MásRiego farmers will convert from flood or sprinkler irrigation, increasing their efficiency and reducing their water needs. To convert a piece of land that has only been rain fed will be a much more difficult process, potentially affecting the local watershed and at greater cost for the farmer. We can help farmers to use water more efficiently — if they already have access to water.
Youth and women have to be engaged in order to have a sustainable impact in communities. Our team is committed to inclusivity, working to involve the most marginalized groups. We strive to have youth involved in agriculture and create economic opportunities where they live, instead of migrating to the United States. Already the project has trained youth and their technicians in seedling production, conservation agriculture, soil fertility, and drip irrigation installations.
Credit provision needs to be a win-win for the farmer as well as the creditor. Guaranteeing success in agriculture depends on many factors, and so this project trains technicians and farmers in practices that will help them be the most successful such as pest management, fertility management and seed selection. The farmer's ability to pay back their low-interest loan for purchasing a drip irrigation system will depend on their ability to grow more with fewer resources, thus increasing their income to be more sustainable in their ability to produce high quality, high value crops.
We are using these lessons to adjust our project's implementation and creative strategies to help the most vulnerable groups of people gain competitiveness in growing fruits and vegetables. We know the success of our work will be defined by the ability of smallholder farmers to "save and grow," utilizing ecological and comprehensive approaches to soil and water usage and generating opportunities for economic development.
More information: