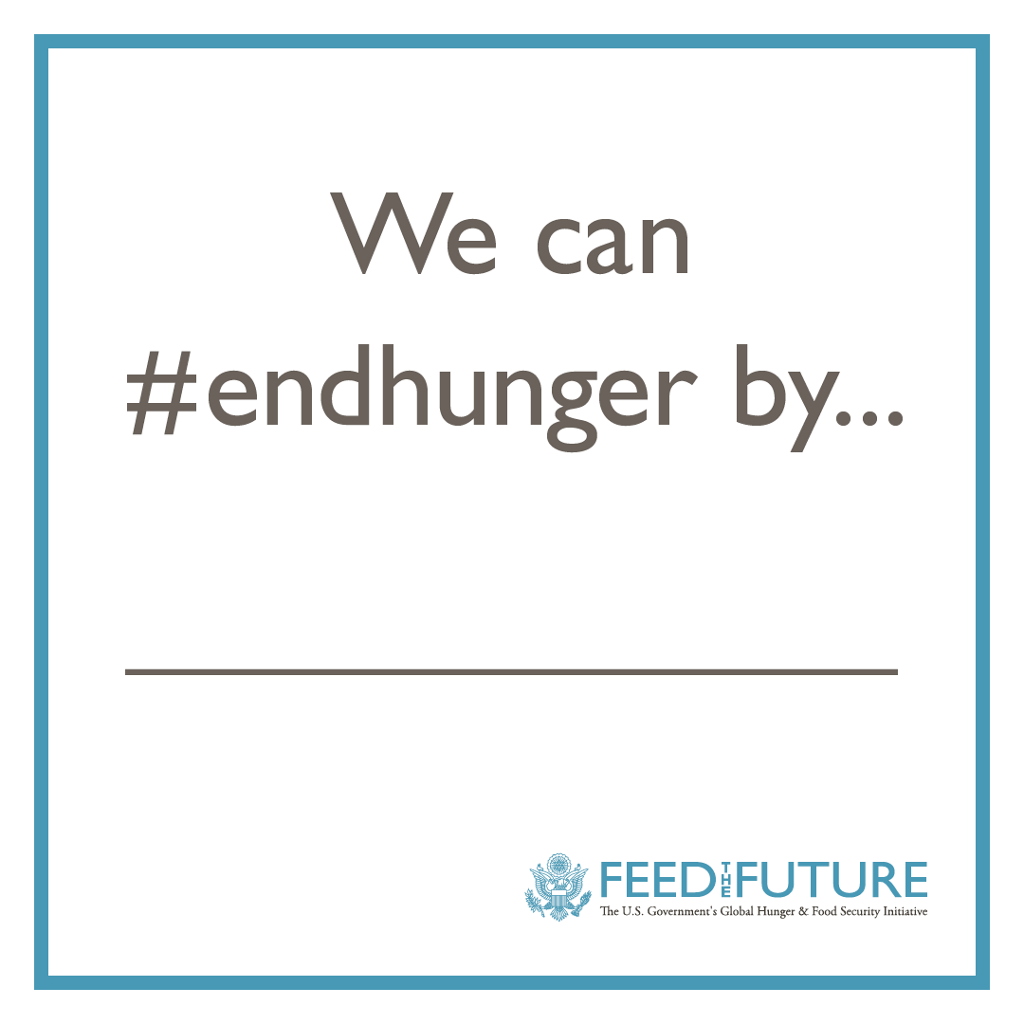 It's Feed the Future week, a time to focus on the U.S. government's global hunger and food security initiative.
Our program is one of 24 Feed the Future Innovation Labs led by university researchers around the United States, and this week our leaders are converging on Washington, D.C., for several different events.
If you can't make it to the events in Washington, D.C., you can check out some of the activity online with the hashtag #endhunger.
Here at the Horticulture Innovation Lab, we focus our work on how agricultural science can improve food security, improve nutrition, and reduce poverty. Sometimes it's easy for us to zoom in on the specifics — how to scale up irrigation, how to cool vegetables without electricity, how to grow a disease-resistant tomato plant — and forget about the big picture. So here's a look at some of the ways we believe the Horticulture Innovation Lab network is helping #endhunger…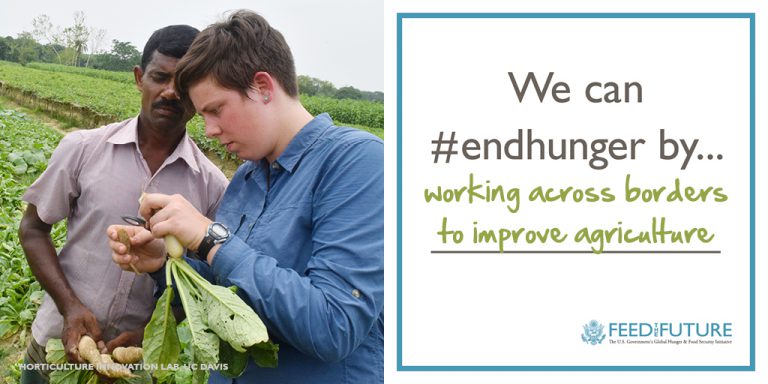 Working across borders to improve agriculture
The nature of our program is collaborative research, which means we bring together scientists from U.S. universities with scientists, government representatives, and entrepreneurs from developing countries to work together to solve a problem. This collaborative process isn't easy, but can yield stronger science and more sustainable solutions that are informed by local conditions and cutting-edge tools. This process is also intended to build capacity among participating researchers, so that they can better solve future challenges and have a network of partners to turn to. (For more: Browse our projects by region)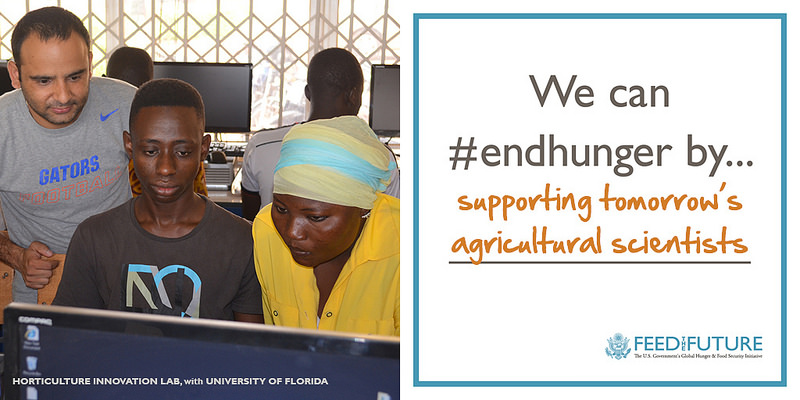 Supporting tomorrow's agricultural scientists
As a university-led program, engaging students in international agriculture is a fundamental part of the Horticulture Innovation Lab. One way the Horticulture Innovation Lab engages students is through its Trellis Fund, which matches graduate students with agricultural expertise to small, in-country development organizations for short-term agricultural projects. Graduate students from UC Davis, North Carolina State University, University of Florida, and the University of Hawaiʻi at Mānoa have participated in Trellis Fund projects in 16 countries, helping farmers with topics from soil management to market access. In the photo above, Dev Paudel from the University of Florida is working with Shiraz lbn Haliq and lssahaku Fauzia on open-source statistical analysis during a Trellis Fund project with the Kayaba Management Foundation in Ghana. (Read more: Students help students learn state-of-the-art science)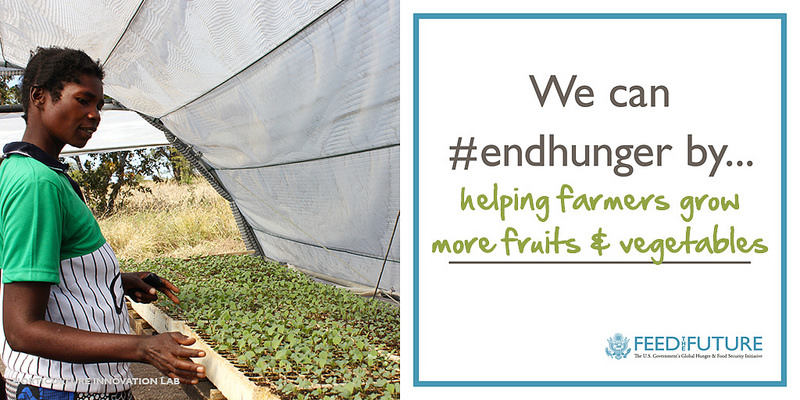 Growing more fruits and vegetables
Our program is focused on horticulture — specifically, fruits and vegetables. Why does growing fruits and vegetables matter? Fruits and vegetables provide critical micro-nutrients for a balanced diet. They are also high-value crops, which means farmers can potentially earn higher prices for growing fruits or vegetables than from growing other, staple commodities. Combining these two aspects of fruits and vegetables — higher incomes and nutrient-rich diets — is at the core of the Horticulture Innovation Lab's research efforts. (Read more: Why growing fruits and vegetables matters)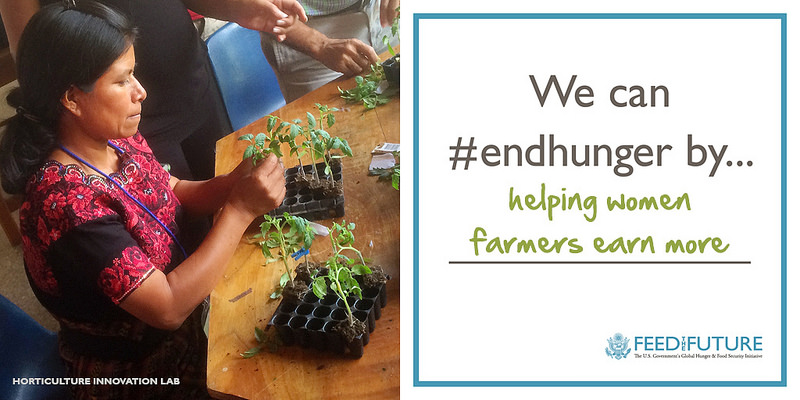 Helping women farmers earn more
Vegetables, fruits and cut flowers are often grown and marketed by women, but women often have less access to markets, land, inputs and education. Addressing these constraints places women growers on the path to increasing productivity and expanding horticultural markets. In the photo above, a woman farmer from Guatemala learns how to graft tomato plants — combining disease resistant traits for healthier seedlings, which her group sells to fellow farmers as a small business. (Read more or watch the video: Expanding tomato grafting for entrepreneurship)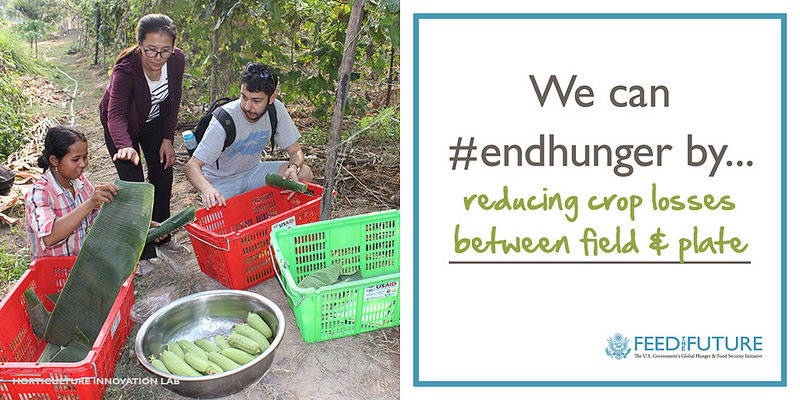 Reducing crop losses between field and plate
Fresh produce can be a highly perishable commodity, with nearly half of all fruits and vegetables lost before they can be consumed (45% according to recent FAO statistics). Food quality, safety and nutritional value are also affected by poor practices after harvest. The Horticulture Innovation Lab is led by one of the world's premier postharvest scientists at UC Davis. Many projects are designed to improve postharvest handling as an important consideration in helping farmers bring more fresh produce to market, and Horticulture Innovation Lab researchers frequently lead hands-on training in this field around the world. (Photo above from the photo essay: Following vegetables from field to market in Cambodia)
More information: