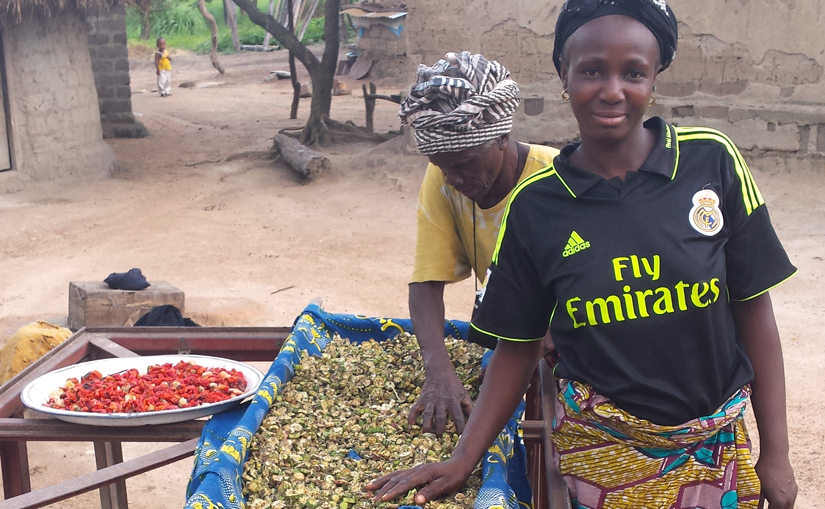 In the wake of the Ebola outbreak, the Horticulture Innovation Lab was asked to evaluate fruit and vegetable production in Guinea, as part of the U.S. Agency for International Development's ongoing response in the region.
Over several months, the Horticulture Innovation Lab's team combined a desk study, interviews, and surveys of farmers, village leaders and market traders into a "rapid assessment."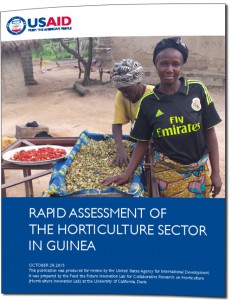 Rapid Assessment of Horticulture in Guinea
This report, prepared by the Horticulture Innovation Lab for the U.S. Agency for International Development, examines opportunities for rural development and the horticulture sector in Guinea, in the wake of the Ebola crisis.
The report, "Rapid Assessment of the Horticulture Sector in Guinea" is now available online and identifies constraints to improving horticultural production at household and commercial levels in Guinea, along with specific recommendations for improvements. It is intended to provide guidance to USAID and the U.S. government's Feed the Future initiative, for investments in Guinea's agriculture.
"We tried not to give the USAID mission in Guinea a list of things that says, 'Everything is broken,'" said Amanda Crump, associate director of the Horticulture Innovation Lab and one of the authors. "Instead we provided a list that is doable, makes sense in the context of Guinea specifically, and identifies where to start for greater impact."
The assessment's recommendations are separated into categories based on farmers in different wealth quartiles (wealthier, middle-income, poor and poorest), women farmers, farmers in specific geographic zones, specific crops, and links in the horticultural value chain.
Growing fruits and vegetables in Guinea
During the survey, Guinean farmers consistently identified eggplant and chili pepper as important horticultural crops, while the report also focuses on okra, tomato, mango and citrus, with specific recommendations for each crop. The report highlights the "little Guinea pepper" in particular, a labor-intensive variety that has earned a spicy reputation in the region.
"Here's a crop that other countries call the 'Guinea pepper,' which shows it has exceptional marketing potential throughout the region — maybe even internationally," Crump said. "Details like this chili pepper make horticulture sound like a promising avenue for Guinea."
When it comes to market connections, Guinea's horticultural farmers are motivated to sell their extra produce even if it means riding a bus, renting a car, or crossing national borders to access well-established, weekly regional markets.
The report also found that when men and women both farm horticultural crops in Guinea, they often exchange agricultural information such as improved practices, and new seed varieties.
"My favorite moment from doing the farmer surveys in Guinea was when a rural farmer was fixing a smart phone while describing for me the importance of women's role as early adopters of new varieties. He's the one who said: I've seen enough women here succeed with the new cucumber variety that I will start planting it," said Peter Shapland, consultant who led the farmer surveys.
Guinean farmers also reported advantages of working in groups, which could offer excellent opportunities for development and training activities. Recommendations in the report also focus on different parts of the value chain: agricultural inputs, production practices, pest management, credit, entrepreneurship, marketing, postharvest practices, policy and training opportunities.
Next steps for the Horticulture Innovation Lab
"I hope this assessment frames the next horticultural development activities in the country, for targeted smart investments," Crump said. "The next step for the Horticulture Innovation Lab is that we would like to explore potential partners who can work with us in Guinea, for future research opportunities."
To that end, the Horticulture Innovation Lab maintains a list of potential collaborators on its website, with people and organizations who have identified themselves as open to partnerships on future horticultural projects.
For more information: