James Simon, professor at Rutgers University and a partner of the Horticulture Innovation Lab, recently presented a memorial lecture at the University of Minnesota.
Approximately 100 people attended the talk Simon gave April 13 as the invited speaker for the Kermit A. Olson Memorial Lecture to the University of Minnesota's Department of Horticultural Science. His presentation was called, "Horticulture for Social Justice: Using Horticulture as a Vehicle for Income Generation and Nutritional Improvement in Sub-Saharan Africa." This endowed lecture is presented each year by an outstanding horticulturist or landscape architect.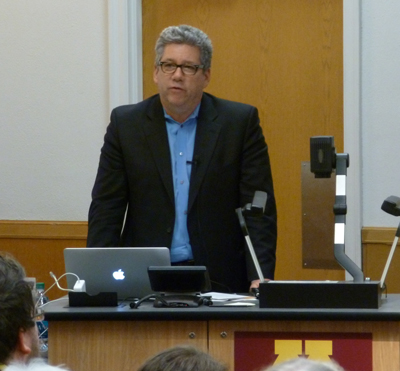 Simon currently leads a nutrition-focused project for the Horticulture Innovation Lab focused on "Improving nutrition with African indigenous vegetables" in Zambia, Kenya and Tanzania. As the principal investigator for the project, he works with partners from Rutgers, Purdue University, University of Zambia, Eldoret University in Kenya, AgriSmart in Zambia, AMPATH in Kenya and the Kenya Agricultural and Livestock Research Organization.
In Zambia, Simon and team were previously involved in increasing production and strengthening the value chain of African indigenous vegetables, improving vegetable quality with seedlings, and improving postharvest practices for local markets.
Photos courtesy University of Minnesota Department of Horticulture.
Related blog posts: