Interested in international agriculture? University students are invited to apply for a fellowship to attend the Association for International Agriculture and Rural Development's annual conference and then participate in its Future Leaders Forum.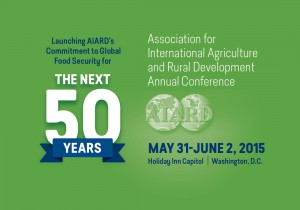 This year, the AIARD annual conference will be May 31 – June 2 in Washington, D.C.
Students selected for the fellowship will also attend the Future Leaders Forum, June 2-3, with visits to agencies, companies and organizations engaged in international agriculture and rural development (i.e. USAID, USDA-FAS, USDA-NIFA, World Bank, Peace Corps, UN/FAO, Chemonics, Dupont/Pioneer International, Millennium Challenge Corporation).
April 19 is the deadline for students to submit the application online. Undergraduate and graduate students at U.S. universities are invited to apply.
Britta Hansen, now a program officer for the Horticulture Innovation Lab at UC Davis, participated in AIARD's Future Leaders Forum as a University of Minnesota student in 2010.
"It's a great way to get the lay of the land in D.C., meet all of the big agencies, and have access to meetings with organizations that you otherwise wouldn't get in the door with," she said. "In fact, that is where I first heard about the Horticulture Innovation Lab and met people who eventually connected me to my current job!"
Last year, 12 students from 8 universities were selected to participate, including Lauren Pincus and Sarah Sahlaney from UC Davis. Sarah was also selected to receive an additional scholarship at the meeting.
Event sponsors include UC Davis, Penn State, the U.S. Agency for International Development and DAI.