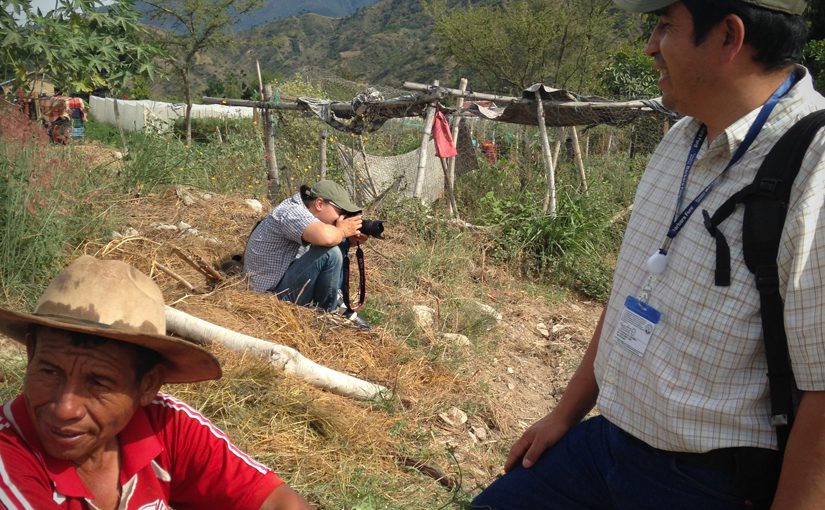 Photojournalist Martin do Nascimento recently traveled to Guatemala's Western Highlands to explore the Horticulture Innovation Lab's new project helping farmers use climate-smart agricultural practices for growing vegetables.
His photo essay was published in the digital magazine TakePart, called "See the Simple Way These Farmers Are Outsmarting Climate Change."
The essay shows us this story in beautiful, sweeping photos. Here is how Nascimento introduces his story:
"For many, the term 'climate change' brings to mind the image of a polar bear on a shrinking sheet of ice somewhere far off in the Arctic.

"Consider another image: A tired farmer looks out fearfully over a craggy field and wonders how he'll grow the crops to keep his family fed.

"Pedro Esteban is that farmer, and to him, climate change is no abstraction.

"His family has farmed the Guatemalan highlands for generations, and climate change is the phenomenon that yearly forces his kin to cut production…" [Read the rest of the story and browse the photos.]
The article is about the Horticulture Innovation Lab's MásRiego project, which promotes drip irrigation and climate-resilient practices among smallholder farmers. With funding from the U.S. Agency for International Development's mission in Guatemala, the Horticulture Innovation Lab is leading this effort to train 9,000 rural households in drip irrigation, rainwater harvesting, reduced tillage, mulch use and diverse crop rotation.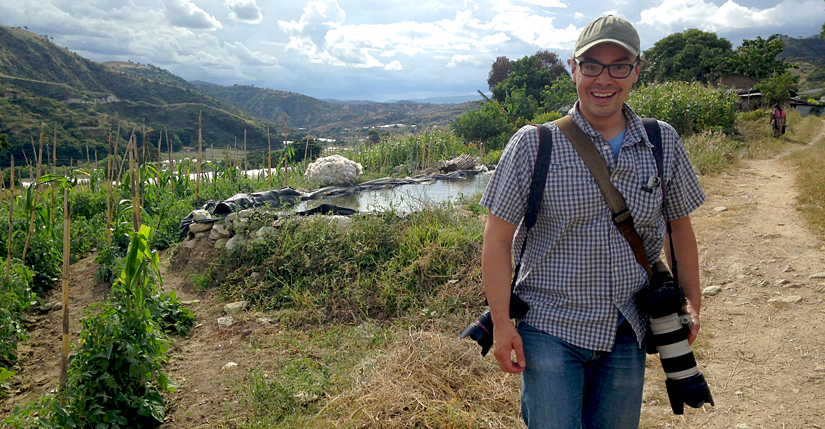 While in Guatemala, Nascimento met with José García of the Centro de Paz Bárbara Ford, and with Meagan Terry, UC Davis junior specialist who manages the project in Guatemala. She emphasized the "holistic systems" the team is putting together.
"That includes conservation agriculture and using different techniques that allow us to capture natural resources that are typically thought of as waste, like fertilizer from goats, or using mulch or leaves from the forest as cover for the garden bed," Terry told him.
Local partners, in particular the Centro de Paz Bárbara Ford, are leading the way with youth engagement and helping make irrigation equipment available and affordable for farmers to adopt. Academic partners from Kansas State University, North Carolina Agricultural and Technical State University, the Panamerican Agricultural School Zamorano in Honduras, and the Universidad Rafael Landívar in Guatemala are assisting with related agricultural research and training.
The journalist also had a chance to interview Daniel Bailey of USAID, who was integral in planning the project, as part of the U.S. government's global Feed the Future initiative.
"When we're talking about technology adoption, one of the things that we're always concerned about is, once the project is finished, will the farmers still have access to those technologies?" Bailey explained in the article.
Officially launched in recent months, this three-year project aims to help 2,500 households adopt drip irrigation equipment to better adapt to climate change pressures, with a particular emphasis on youth and entrepreneurship to help sustain continued use of this technology and skills into the future. This project in Guatemala makes use of previous Horticulture Innovation Lab results related to conservation agriculture with vegetable farmers in Cambodia.
Explore this project: