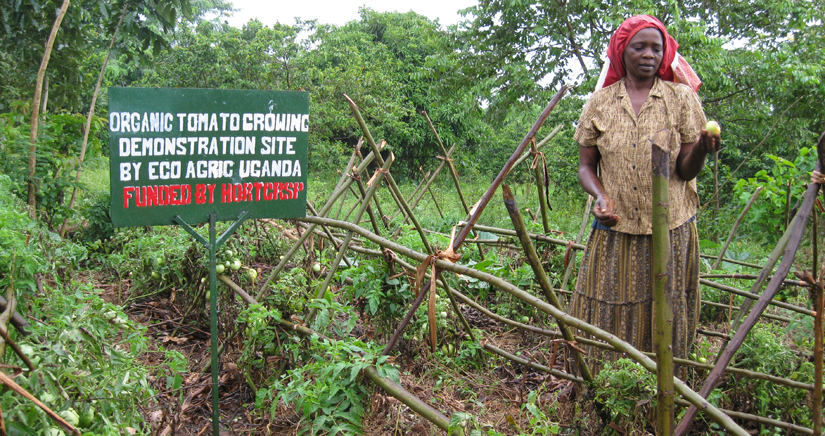 Editor's Note: Liz Hohenberger, one of the UC Davis grad students who manages our Trellis Fund, shares a Thank You note sent by an organization that had previously received funding from the Trellis Fund.
The grants that the Horticulture Innovation Lab awards through its Trellis Fund aren't huge; we fund 6-month projects for $2,000, matching small organizations with U.S. graduate students who can provide expert support. Since the Horticulture Innovation Lab also funds million-dollar projects, this may not seem like much, but we know that Trellis Fund projects can have a lasting impact on the graduate students (think of them as tomorrow's agricultural leaders) and the local organizations that work together.
We recently received an email from one of the first organizations to receive Trellis funding, a reminder of how big of a difference this small grant can make. The email from Uganda started with:
"THANK YOU THE TRELLIS FUND. YOU GAVE US THE VERY FIRST PUSH!"
The letter went on to explain, "You initiated and nurtured the Environmental Conservation and Agricultural Enhancement Uganda (Eco-Agric Uganda), it's hard to mention all its achievements now." 
The Trellis Fund's relationship with Eco-Agric Uganda began in 2010, after the organization submitted a project proposal for Trellis Fund consideration. Their proposal "Promotion and expansion of organic tomato growing in Kira Town Council, Wasiko District, Uganda" was selected for funding, and they were paired with Gina Garland, a UC Davis master's student studying horticulture and agronomy, to help farmers improve tomato production, fight tomato bacterial wilt and tomato blight, and establish 20 tomato nurseries. Eco-Agric recruited 258 farmers to participate, exceeding its promise of 175 participants.
The relationship between Eco-Agric and the Trellis Fund continued the next year when they were selected for funding again, a rare occurrence. Their second proposal, "Promoting orange-fleshed sweet potato for improved livelihoods in Hoima district," aimed to improve smallholder incomes and nutrition by training farmers on the production of orange-fleshed sweet potato through farmer field schools.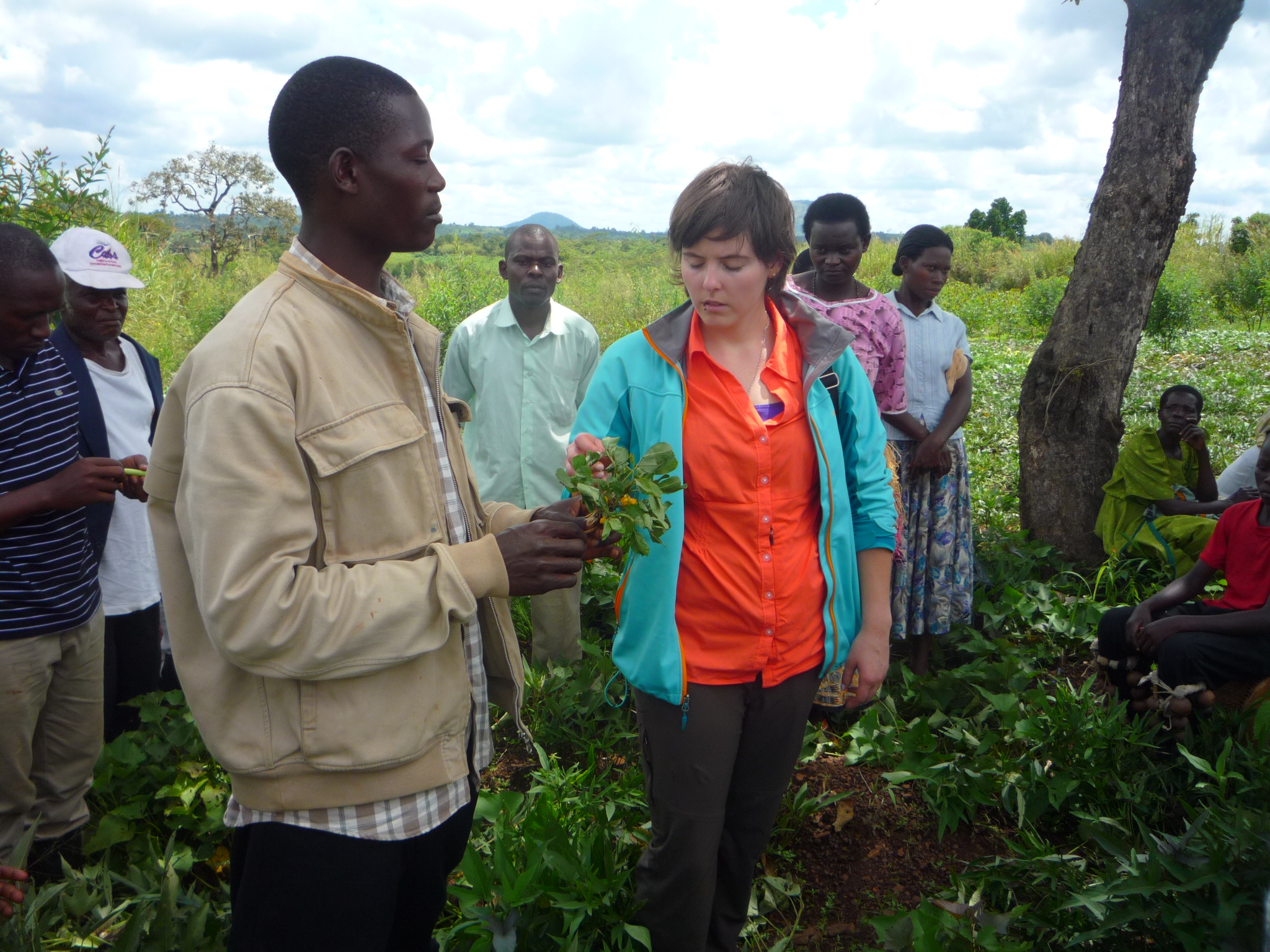 UC Davis student A.J. Campbell discusses plant diseases and the importance of clean plant materials for orange-fleshed sweet potatoes, with Eco-Agric Uganda during the Trellis Fund project in 2011.
Matched with a plant pathology Ph.D. student from UC Davis,  A.J. Campbell, Eco-Agric Uganda equipped 296 farmers — 228 of which were women — with production skills for orange-flesh sweet potato such as seed selection, field preparation, and integrated pest management. In the final report for this second project, Eco-Agric Uganda credits the Trellis Fund with expanding its network by linking them with staff and students at the University of California. They also credited A.J. Campbell for enhancing the capacity of their extension staff. (You can see what A.J. thought of her experience in this short promotional video from 2013.)
The Trellis Fund also furthered its relationship with Eco-Agric Uganda that year, when Elana Peach-Fine and Peter Shapland, who were then managing the Trellis Fund, visited with the organization on a trip to Uganda for other Horticulture Innovation Lab work. They met Eco-Agric staff and traveled to project sites to observe progress and meet participants. In their recent letter, Eco-Agric Uganda staff members specifically thank Elana and Peter for the motivation their support provided the organization and the positive impression it made on other donors.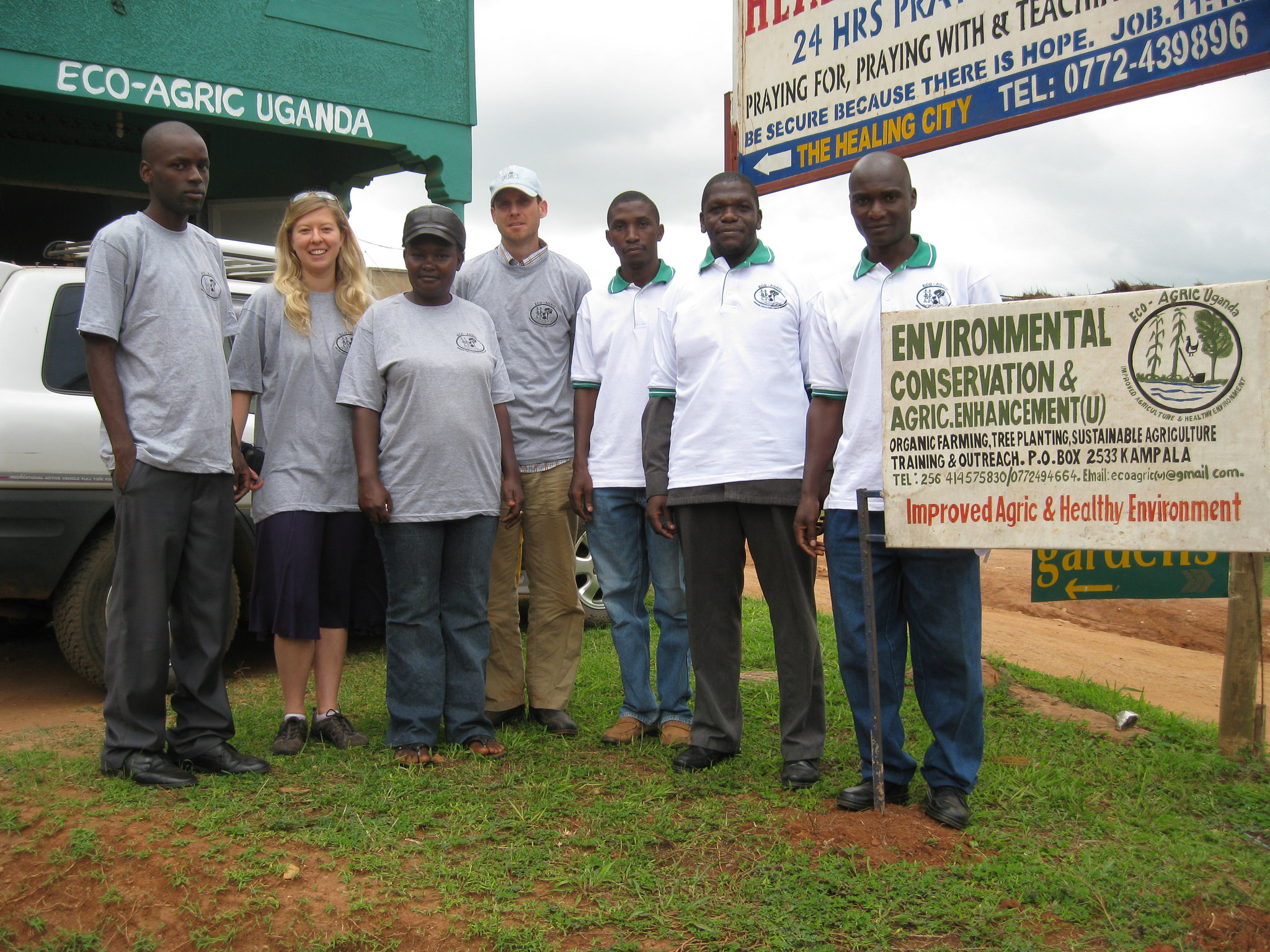 Today, Eco-Agric Uganda reports it has grown exponentially since 2010: "The Trellis Fund was the very first external donor to Environmental Conservation and Agricultural Enhancement Uganda (Eco-Agric Uganda). But now, the organization since then has partnerships with many donors like: the Vibrant Village Foundation, Quaker Services Australia, USAID, Catholic Relief Services, Civil Society Fund, WWF/UNDP, Agri Business Initiative Trust, the Marr-Munning Trust and many other local donors from Uganda."
With this funding, the letter continues, they are currently able to benefit 16,500 orphans and vulnerable children plus their caregivers.
The letter from Eco-Agric Uganda was a nice surprise and a heartwarming reminder of why we continue each year to solicit and fund projects through the Trellis Fund. We are routinely impressed with the way organizations supported by the Trellis Fund leverage their existing networks and skills with this small amount of funding to promote good horticulture practices among their farmers. With Eco-Agric's letter in hand, we look forward to supporting another round of Trellis projects next year.
Update on current Trellis funding: The Trellis Fund recently reviewed 75 proposals from 15 countries, and we are in the process of finalizing grant awards for the winning proposals. We'll begin recruiting university students from UC Davis, North Carolina State University, the University of Florida, and University of Hawaii at Manoa in the fall.
Related: