Colorful Harvest: From Feeding to Nourishing a Growing World
Horticulture Research for Development Conference
When: March 26-27, 2019
Where: Washington, D.C.
(The Madison hotel, 1177 15th St NW)
The Feed the Future Innovation Lab for Horticulture presents this two-day conference that gathers the latest innovations and top researchers in the growing field of horticulture for development.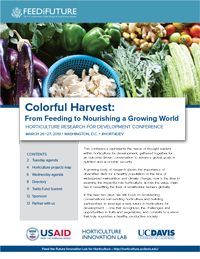 Colorful Harvest program
A complete agenda is now available for the conference, including keynote speakers, panelists and other presentations. Additional details include sponsors and a directory of conference participants. 
Fruits and vegetables offer farmers promising returns even on small plots of land, while providing needed micronutrients to their families, communities and regions. But successfully growing and selling high-value horticultural crops requires local research capacity, knowledgeable producers, and technological innovation that can hurdle rural infrastructure challenges.
A growing body of research shows the importance of diversified diets for a healthy population. In the face of widespread malnutrition and climate change, now is the time to examine the impactful role horticulture, across the value chain, has in benefiting the lives of smallholder farmers globally. How can we best advance fruit and vegetable innovation, to reduce poverty and improve nutrition security?
Hear from leading university researchers, development practitioners, and government leaders at the Horticulture Research for Development Conference, March 26-27 in Washington, D.C.
Registration for this event is full. If you are interested in participating, we invite you to express your interest in attending, so we can contact you in case additional seats become available. We will continue to update this page as additional agenda details are confirmed.