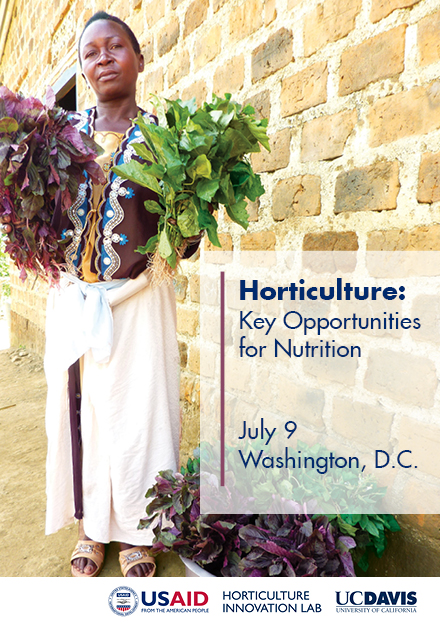 When: July 9, 2014
Where: Washington, D.C.
The Horticulture Innovation Lab held a forum discussion of the relationship between horticulture and nutrition, July 9 in Washington, D.C.
The event included highlights of how the Horticulture Innovation Lab's research has related to nutrition during the program's first five years — including projects focused on African indigenous vegetables and orange- and purple-fleshed sweet potatoes.
The event also included facilitated discussion with participants about future directions, particularly about better incorporating nutrition into horticultural research projects.
Event summary
In case you missed the event, or would like to share details with your colleagues, organizers have compiled an event summary (PDF) with highlights from the presentations and discussion. See the event agenda (PDF) for other details.
Horticulture crops for nutrition and income
The Horticulture Innovation Lab's projects focus on horticultural crops as both nutritious and profitable options for small-scale farmers. Find out how horticulture can improve nutrition in our fact sheet.
Featured projects
Here are some of the Horticulture Innovation Lab projects that were highlighted at this event: