Description
This Horticulture Innovation Lab webinar outlines the process for conducting horticulture value chain assessments and introduces example methodologies that can be used to target pre- and postharvest losses. This was the second webinar in the Horticulture for Development Professional Series, held live on August 1, 2019.
Rashmi Ekka, with Agribusiness Associates and Sal International, was the speaker for this webinar. She provided an overview of what a value chain is and the key types of market actors that are involved. The process for conducting a value chain assessment was laid out, beginning with conducting a desk review to the final dissemination workshop, report writing and analysis. In addition to the process for conducting a value chain assessment, a specific type of assessment called Commodity Systems Assessment Methodology was shared as one way to analyze all components within a given value chain in order to focus on reducing food loss.
This summary includes the recorded webinar video presentation, the presenter's slides, and additional resources referenced in the presentation.
Value chain overview and approach
An agricultural value chain maps out the various market actors for a specific product. This spans from the input suppliers, to producers, all the way to consumers and everything in between. As a product moves through the chain, there is typically value addition that is passed on as the product becomes processed and developed. The "value chain approach" is beneficial as it allows all aspects of a value chain to be mapped and provides better insight into areas within the value chain that may not be functioning optimally. 
Within a value chain, Ekka emphasized it is important to understand the structure of governance that regulates how the value chain functions and the various firms which serve this role. Regulation and parameters set within a value chain impact the dynamics between firms and how value moves throughout the chain.
Overall relationships within a value chain are critical to development, as smoothly coordinated efforts between firms can allow for easier flow of information, facilitation and provision of services. In the absence of strong relationships between firms, key market actors can struggle to effectively participate within a value chain and result in poor performance.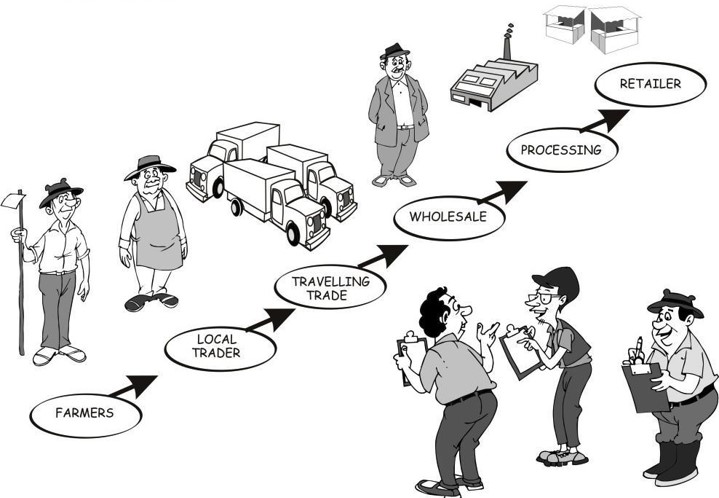 Stakeholder engagement to map a value chain
Identifying stakeholders within a given value chain provides the opportunity to understand how products move between market actors, what services are provided to support the value chain, and where improvements can be made.
Identifying value chain actors can often begin with farmers who can provide information on downstream actors and other stakeholders that play a role. This allows various groups to be targeted for key informant interviews to ensure diverse perspectives and inputs within the value chain are represented. 
Ekka discussed the idea of knowledgeable observers who are individuals within a community that have a critical vantage point into segments of a value chain and how their perspective can be beneficial to include in stakeholder engagement. These can include individuals from projects within a country, government officials or other community members that can provide insight and a broad perspective.
Mapping and analyzing an agricultural value chain
Once a strong list of market actors has been established through stakeholder engagement and key informant interviews, it is time to map the value chain. This process entails organizing all actors from input suppliers to retail companies to consumers based on the flow of value added along the way. Mapping should focus on the key actors and their relationship with one another as well as incorporating external factors that impact their roles, such as economic and political forces, environment and technological issues.
Analyzing the value chain utilizes data collected from interviews with stakeholders, market information, and literature collected through the desk review to better understand how the value chain works as a whole. This can result in understanding how price increases along the value chain, what high-value products are produced, as well as overall challenges within the value chain that provide opportunities for development. 
Methodology for assessing postharvest losses in horticulture
In addition to using a value chain approach to fully understand market actors and forces within a given value chain, Ekka introduced Commodity Systems Assessment Methodology (CSAM). CSAM builds off of a value chain approach to better identify weaknesses in a value chain that result in food losses. This approach provides a unique opportunity to reduce pre- and postharvest losses in horticulture for raw foods and food products, ensuring better supply to end markets.
While CSAM includes a comprehensive overview of value chains, including segments prone to food loss and application of the methodology, Ekka focused on discussing common issues within a value chain that can lead to pre- and postharvest loss.
Key stages highlighted that are important to keep in mind during value chain assessments with an eye on pre- and postharvest loss are production/planning, harvest, transport and assembly/packing. These stages and their commonly identified issues are important to consider when developing key informant interviews and conducting value chain analysis. 
Best practices in horticulture value chain assessment
Putting all of these elements of value chain assessment and analysis together, Ekka shared some key highlights and best practices to consider when conducting these assessments and developing or implementing a value chain project. These include:
Using a participatory approach to stakeholder engagement ensures that diverse voices and perspectives are heard to establish a more comprehensive picture of a given value chain.
Within stakeholder engagement, it is important to include diversity of demographics including women and youth that play a large role within value chains.
The importance of reviewing your findings with stakeholders a final time during a post assessment workshop helps ensure findings are aligned with stakeholder's experience.
Ekka highlighted the Postharvest Loss Assessment of Tomatoes in Rwanda as one of the reports she worked on that combines CSAM with value chain analysis. That report was created as part of the Horticulture Innovation Lab project focused on reducing postharvest losses in Rwanda, along with similar value chain assessments in Rwanda on orange-fleshed sweet potatoes, green chilies, and green bananas.