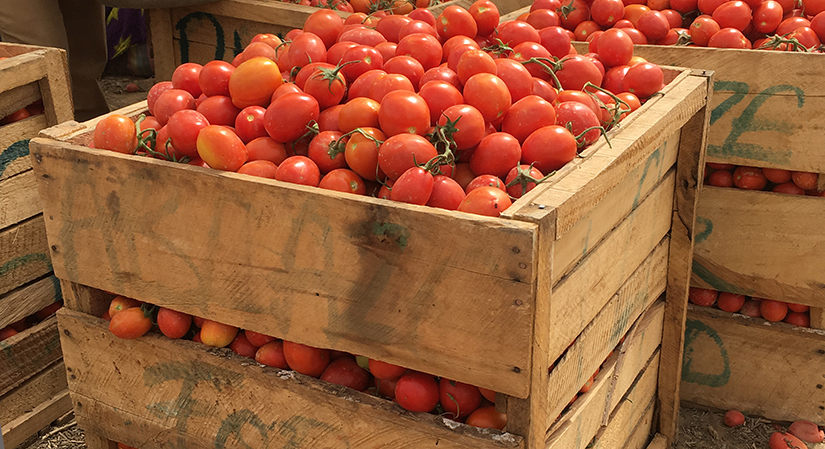 'Annual Report: 2016-2017 Highlights' now available
A new annual report is now available from the Feed the Future Innovation Lab for Horticulture, with contributions from all of the global network's research teams. The report highlights accomplishments from October 2016 – October 2017.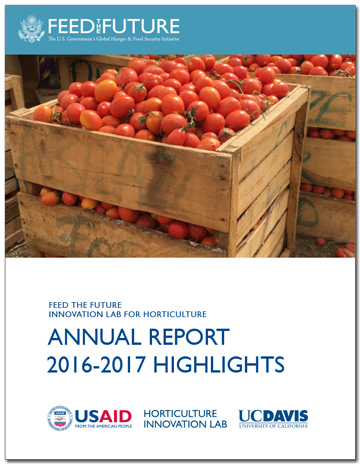 While previous annual reports from the Horticulture Innovation Lab have sometimes exceeded 150 pages, we are sharing this year's report in a condensed format for easier skimming. That said, the new "Annual Report Highlights" still includes one-page of updates from every one of the Horticulture Innovation Lab's ongoing research projects.
As of the end of the fiscal year in 2017, the Horticulture Innovation Lab has granted all funds for the program's second phase to develop knowledge on key information gaps across the horticulture value chain. During the past year, promising results have emerged from these research projects. Project teams actively engaged with more than 6,000 farmers, development practitioners, and others who benefited directly from U.S. government assistance.
Browse the Horticulture Innovation Lab's 2016-2017 annual report(PDF).
Key accomplishments this year include:
Increasing income: Research in Bangladesh shows the profitability of the Horticulture Innovation Lab chimney solar dryer particularly for fish and high-value crops including chili, groundnuts, and mung bean. Farmers also achieved higher profitability and reduced postharvest losses from short-term storage of high-value crops in the CoolBot cool room.
Increasing production: Research in Honduras demonstrated that grafted tomato plants with pathogen-resistant rootstocks can increase yields by 100 percent, reducing or eliminating the need for soil pesticides.
Improving nutrition: Two new lines of improved amaranth and two new lines of nightshades were entered into the Kenyan national new seed variety testing program. Seed from varieties that are higher in nutrients will be distributed to commercial and smallholder producers.
Gender considerations: Initial analysis in Honduras of a baseline household survey emphasizes the low dietary diversity in western Honduras and issues of food security, particularly within single-female headed households. Women are disadvantaged in terms of ownership of assets and making decisions about credit. Although women in single-headed households show higher control over income-generating activities, they are less likely to consume adequate amounts of fruits and vegetables and are more likely to experience food insecurity.
New technology development: This year's research included field-testing or scaling of 60 new technologies (excluding seed varieties).
Adoption of improved technologies: 4,000 farmers report using improved technologies and 620 hectares are under new technology.
Building in-country capacity: Our program provided training to build the capacity of 2,397 government, private sector, and civil society individuals and 167 organizations in Africa, Asia and Latin America.
Long-term and short-term training: Our program is training 75 graduate and undergraduate students. Horticulture Innovation Lab researchers also provided short-term training to 6,365 individuals.
Investment in young entrepreneurs: The Horticulture Innovation Lab established a new youth-led Horticulture Training and Services Centerin Kindia, Guinea. Young entrepreneurs will demonstrate production and postharvest technologies at a government-led agriculture research center.
Peruse the rest of the annual report, including an executive summary, achievements from each research project, success stories, as well as brief background about the program, where we work, and the importance of horticulture for international development.
The Horticulture Innovation Lab is led by a team at UC Davis, with funding from the U.S. Agency for International Development as part of the U.S. government's global hunger and food security initiative called Feed the Future. Our global research network advances fruit and vegetable innovations, empowering smallholder farmers to earn more income while better nourishing their communities.