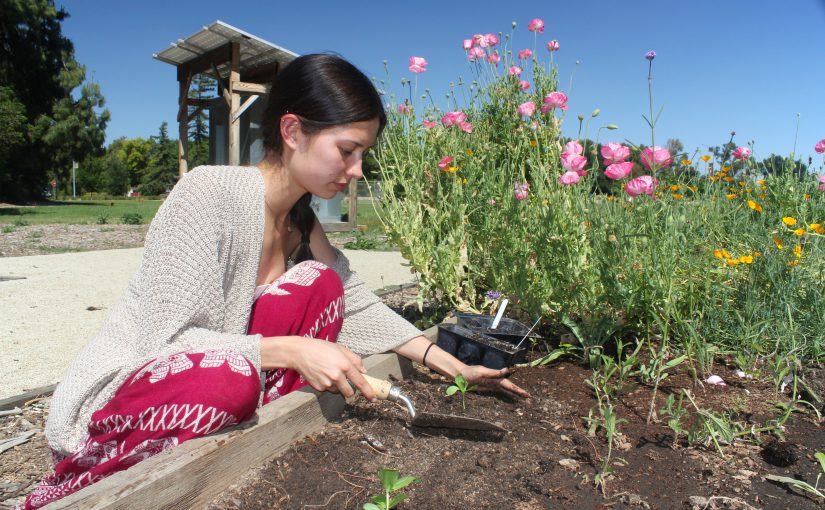 Now is a great time to drop by the Horticulture Innovation Lab's demonstration center, to check out thriving young vegetables plants that are more commonly grown in Africa and Asia.
One of the garden beds is home to vegetable seedlings that are grown in Africa, sometimes called African indigenous vegetables. These include varieties of: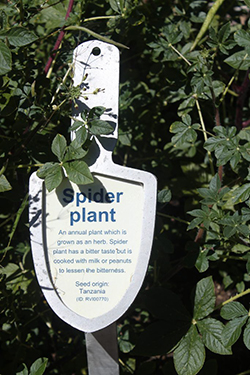 spider plant
amaranth
cowpea
groundnut
tree tomato
eggplant
pumpkin
okra
Spider plant and amaranth in particular are two of the leafy African vegetables that Horticulture Innovation Lab researchers are working with in Kenya and Zambia, in efforts to improve nutrition and better understand the connection between farmers who grow these nutritious vegetables and people who eat them.
The Horticulture Innovation Lab demonstration center is a chance for UC Davis visitors to take a peek into the global work of the Horticulture Innovation Lab — namely, agricultural research with scientists in Africa, Asia and Central America. You can visit the demonstration center along Arboretum Drive, near the Environmental Horticulture buildings, Nelson Hall and Solano Field (see it on the campus map).
Next to the African garden bed are vegetable varieties more commonly found in Southeast Asian home gardens including luffa, mungbean, bottle gourd and eggplant.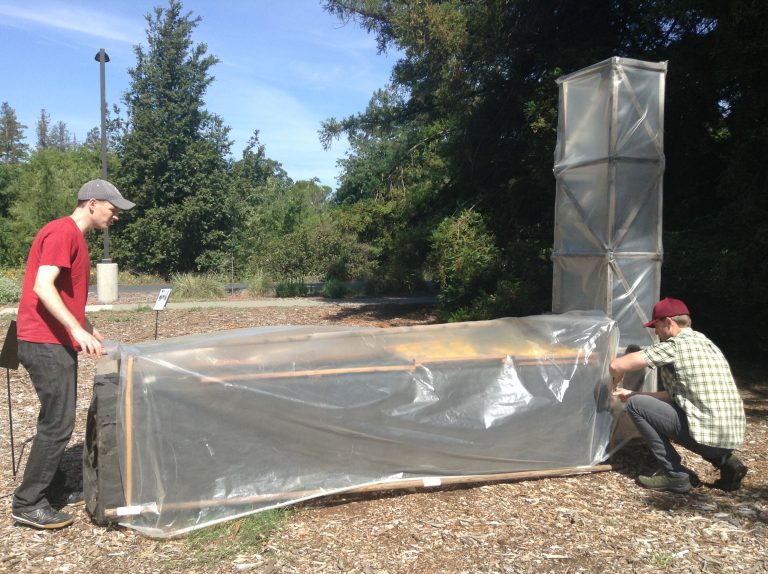 Research to improve lives of farmers in developing countries
Headquartered at UC Davis, the Horticulture Innovation Lab works to improve smallholder farmers' abilities to grow and sell fruits and vegetables — as a way to reduce poverty and improve nutrition. This global network of scientists is supported by funding from the U.S. Agency for International Development (USAID) as part of Feed the Future, the U.S. government's global hunger and food security initiative.
In addition to the African and Asian vegetables, the demonstration center also hosts a chimney solar dryer (designed by UC Davis researchers), a solar-powered cold room equipped with a CoolBot, and a zero-energy cool chamber (ZECC). These are some of the technologies that researchers have been adapting to help smallholder farmers overcome market challenges.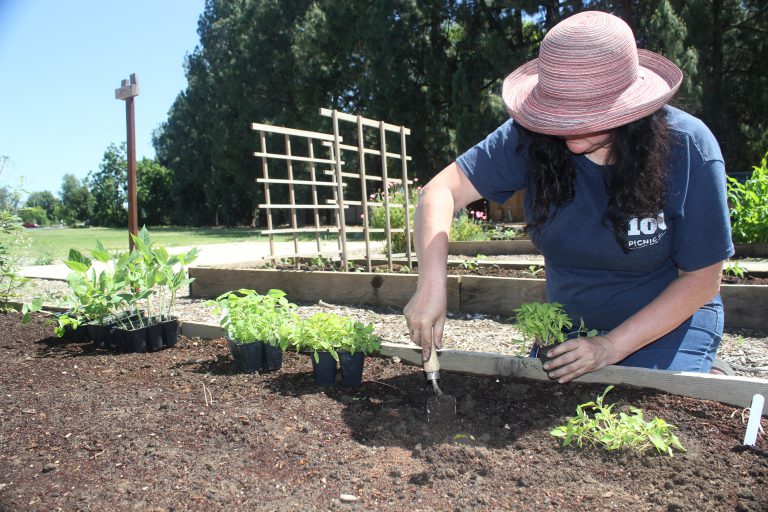 New garden team managers
The demonstration center is managed by Archie Jarman, who also helps coordinate Horticulture Innovation Lab centers at Kasetsart University in Thailand and in Honduras, at the Panamerican Agricultural School (Zamorano). In Honduras and Thailand, the Horticulture Innovation Lab's researchers demonstrate agricultural technologies and conduct training for farmers in neighboring countries.
Kari Flores, a master's student studying Horticulture and Agronomy, manages the garden as a graduate student researcher. Assisting her are two undergraduate student volunteers in the International Agricultural Development program: Michelle Boutell and Chelsea Supawit.
Besides the African and Asian vegetables, the team also manages a few smaller garden beds that are currently home to a pollinator garden and a salsa garden (tomatoes, peppers and cilantro).
Additionally Tasha Burr, an executive assistant for Community Resource Centers who won last year's Pitch & Plant contest , has continued a small garden at the demonstration center. She maintains two garden beds inspired by Native American "Three Sisters" gardens — one with corn, beans and squash and a new twist combining sunflowers, pole beans and watermelon in the other.
Want to get involved?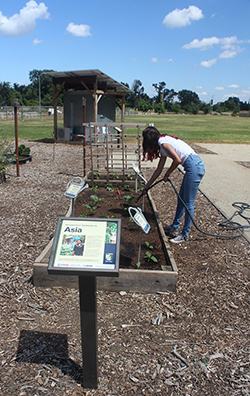 Opened in 2015 for World Food Day, the demonstration center continues to grow and change. It is intended to be an active site where faculty and students can test and demonstrate new horticultural practices, particularly ones that might be useful for small-scale farmers in developing countries.
"We would love to hear from UC Davis departments and programs that might be interested in collaborating, either by displaying some of their technologies here or by using our site for small experiments," Jarman said. "We would be thrilled to find new ways to better integrate with campus groups."
In coming months, the Horticulture Innovation Lab team plans to host some field tests of solar dryers — including one trial planned with green coffee beans. The team is also working on plans to plant a "living fence" that might include pomegranate, citrus and artichoke.
More: