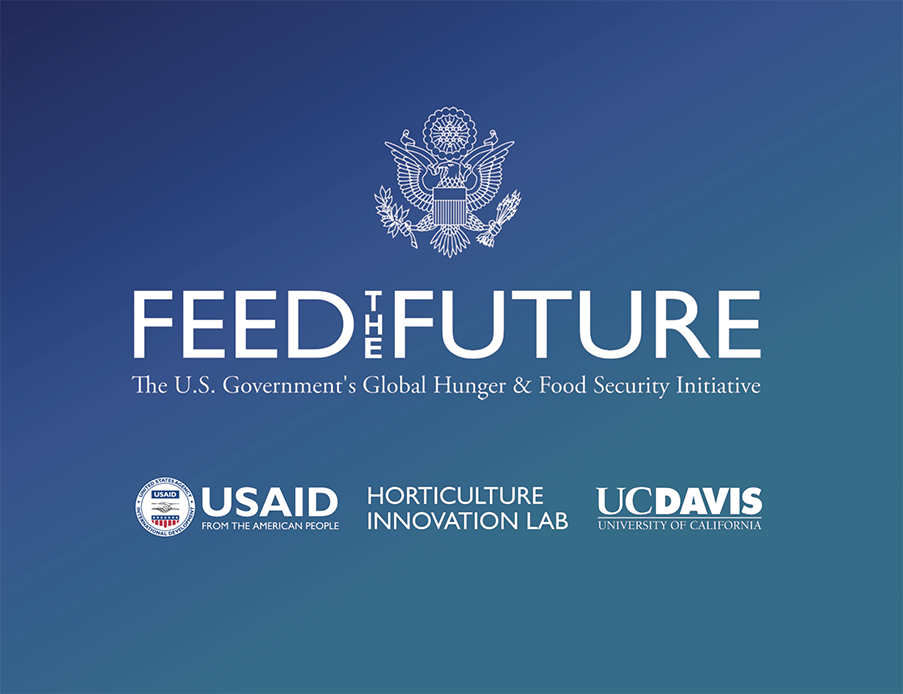 FOR IMMEDIATE RELEASE
Innovation and Advancement in Global Food Security and Gender Equity: Feed the Future Innovation Lab for Horticulture Announces New Portfolio of Regionally-led Research Initiatives
[DAVIS] – The Feed the Future Innovation Lab for Horticulture at the University of California, Davis, is proud to unveil its new research portfolio as a part of Feed the Future, the U.S. Government's global hunger and food security initiative. The Horticulture Innovation Lab's global research network partners with and promotes local leadership to advance horticulture and social innovations, empowering smallholder farmers to earn more income while better nourishing their communities. This new 3.5-year portfolio comprises regionally-led research initiatives across East and West Africa, Central America, and South Asia. Research initiatives will be managed by four Horticulture Innovation Lab Regional Hubs based at the International Center for Evaluation and Development (ICED), University of Ghana, Zamorano University, and FORWARD Nepal. 
The new portfolio represents the Horticulture Innovation Lab's commitment to finding creative solutions to the most pressing challenges facing the horticulture sector and global agricultural community, from climate change and social transformation, to malnutrition, food safety and security. By investing in applied research, technologies and development initiatives, the Horticulture Innovation Lab will foster a culture of innovation and collaboration through global partnerships and continuous learning.
Each project is carefully designed to respond to local priorities by exploring untapped opportunities, establishing new partnerships, and contributing to the advancement of sustainable horticulture worldwide.
"We are committed to driving and applying innovation that promotes the empowerment of smallholder farmers and their communities, and look forward to long-term partnerships with our Regional Hub management teams who will be leading the charge of these research initiatives," said Dr. Erin J. McGuire, Director at Feed the Future Innovation Lab for Horticulture. "Through these projects, we are advancing horticultural innovation and supporting robust academic eco-systems."
All research initiatives are led by teams of distinguished researchers and specialists in their respective fields. The portfolio will also provide opportunities for the Horticulture Innovation Lab network and beyond, including government, academic, extension entities, and private sector collaborators. Together, the Horticulture Innovation Lab network will extend its impact and accelerate the pace of innovation.
To learn more about each region's portfolio of projects:
For more information about our research portfolio and collaboration opportunities, please visit horticulture.ucdavis.edu or contact Associate Director, Archie Jarman at rajarman@ucdavis.edu.
About Us
Feed the Future Innovation Lab for Horticulture, also known as the Horticulture Innovation Lab, is funded by the United States Agency for International Development as part of the Feed the Future global hunger and food security initiative, and based at the University of California, Davis. The research program is funded at $15.8 million over 5-years.
For media inquiries contact Communications Manager, Heather Hayashi at hnhayashi@ucdavis.edu.