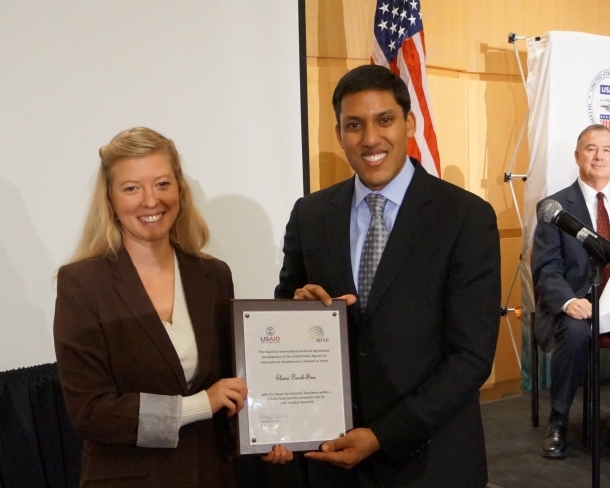 Elana Peach-Fine, a recent UC Davis graduate, was honored Jan. 30 in Washington D.C. by Raj Shah, chief administrator for the U.S. Agency for International Development.
The Board for International Food and Agricultural Development, a USAID advisory board appointed by the president, selected Peach-Fine for its "Award for Scientific Excellence" for her work as a graduate student with the Horticulture Collaborative Research Support Program (Horticulture CRSP) at UC Davis.
Since being selected for the award, Peach-Fine completed master's degrees in International Agricultural Development and Plant Pathology. Her work with Horticulture CRSP included managing its Trellis Fund, which pairs U.S. graduate students with organizations in developing countries to work on fruit and vegetable projects. Horticulture CRSP has funded 37 Trellis projects in 14 countries, through a process largely run by graduate students.
"Graduate students are not only the project participants, but we are also the project planners and evaluators," Peach-Fine said during her acceptance speech. "These students will carry their experiences into their futures in academia, industry and even international development."
Peach-Fine is currently employed as a project analyst with the International Programs Office in the College of Agricultural and Environmental Sciences, where she works on agricultural projects in Pakistan, China, Afghanistan and Ecuador.