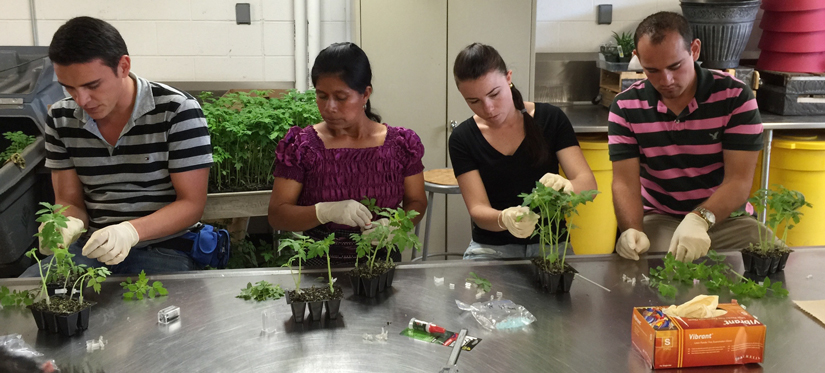 The Horticulture Innovation Lab's "Plántulas de Esperanza" project team gathered in Wisconsin this month for a 9-day workshop focused on vegetable grafting under the leadership of Jim Nienhuis, horticulture professor at the University of Wisconsin-Madison.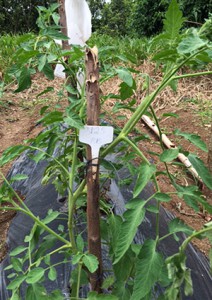 Among the 28 Spanish-speaking attendees of the workshop were leaders from the women's farming groups who are participating in the project from Honduras and Guatemala. Also participating were students and professors from the Instituto Tecnológico de Costa Rica.
The group is learning to graft tomato plants in particular, bringing together virus-resistant scions with fungal-resistant rootstocks. In an earlier project, the team identified virus-resistant tomato varieties that thrive in local conditions, which women's groups began to grow for nursery and seed sales. After replanting these tomato lines in the same fields, the farmers are encountering root rot pathogens, including Ralstonia species. The new project is identifying plants, including tomato wild species Lycopersicon habrochaites and derivatives, to use for grafting premium seedlings for nursery plant sales.
Grafting expert Matt Kleinhenz, of The Ohio State University, helped lead the workshop along with Eric Gutierrez, UW-Madison graduate student. Kleinhenz previously led a Horticulture Innovation Lab project on vegetable grafting in Kenya. 
The workshop was partially supported by the Horticulture Innovation Lab, with funding from the U.S. Agency for International Development as part of the U.S. government's Feed the Future global initiative.
More: