Editor's note: Archie Jarman joined the Horticulture Innovation Lab team as its new program officer, just in time to participate in the program's annual meeting in March. He brings a wealth of international experience to this position, which includes coordinating the Horticulture Innovation Lab's Regional Centers around the globe. Here is a brief interview to introduce you to Archie and his background. We hope you have a chance to meet him soon!
Question: Tell us about your background. How did you come to work for the Horticulture Innovation Lab?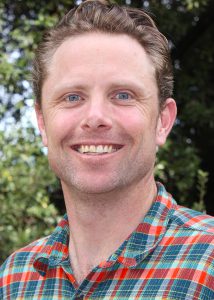 Archie Jarman: By winding road. I worked for the fire service, which is a great career, and made some lifelong friends, but I had the international travel itch. So I studied International Social Welfare at Columbia University and also interned at the Millennium Villages Project with a focus on whether safety net programs improve childhood nutrition domestically and abroad. After graduating, I then worked at Arcadia Biosciences, Inc., as coordinator and then as project manager with excellent teams for their USAID-funded projects. The projects are aimed at improving the abiotic stress tolerance of rice and wheat in Africa and Southeast Asia and incorporated capacity building. The position at the Horticulture Innovation Lab seemed ideal in that I have strengths that could be beneficial for the program, but it also provided a lot of challenges for me to improve my weaknesses and learn. I am thankful it worked out! Very happy to join the team.
Can you tell us more about the projects and crops you were working with at Arcadia Biosciences?
In Bangladesh we were working with the Bangladesh Rice Research Institute (BRRI) to evaluate transgenic salt tolerant rice for research and incorporated a capacity building component, by hosting several scientists from BRRI.
In Indonesia we trialed nitrogen-use efficient rice and evaluated the associated greenhouse gas emissions with the Indonesian Center for Agricultural Biotechnology and Genetic Resource Research and Development (ICABIOGRAD), the Indonesian Agricultural Environment Research Institute (IAERI), and UC Davis. This project also had a capacity building component training ICABIOGRAD and IAERI scientist both in the United States and in-county.
In Ghana, Uganda, and Nigeria, Arcadia worked with the African Agricultural Technology Foundation (AATF) and its partners, and the International Center for Tropical Agriculture (CIAT) to test nitrogen-use efficient Nerica Rice.
In Mexico and India, Arcadia worked with CIMMYT and the Indian Institute for Wheat and Barley Research (IIWBR) to develop heat tolerant wheat varieties by screening germplasm libraries, mutagenesis, and transgenic approaches.
What inspired you to work in international development?
A friend and I started a nonprofit organization about 15 years ago that provides services to families in Quito, Ecuador, who have recently migrated from rural areas to the city to seek jobs. The transition is frequently full of challenges and the nonprofit helped with preparing kids and enrolling them in school, improving access to medical care, and other general social services. My role, helping fundraise in the United States, was challenging but inspiring. Thankfully, there are wonderful folks who are now running that side of the operation in the United States and the activities in Ecuador still continue.
My motivation at that time is much the same as it is now: I love to travel and learn from people and cultures I would not be exposed to otherwise. And I believe sharing expertise and technology multilaterally and across cultures and genders is key for alleviating poverty.

How do you see your role at the Horticulture Innovation Lab?
It was really a privilege to be able to join the team for the Annual Meeting in Guatemala only one week after being hired. The motivated atmosphere, filled with experts from a range of fields impacting and impacted by horticulture, only reinforced my excitement for this position. My hope is that as part of the Management Entity team, I can be in a position to positively support the projects and regional centers, in any way, so they can be successful.
You've traveled far and wide, both personally and professionally. Any tips or lessons from traveling that you can share with us?
Be careful when buying a rug in Morocco. Make sure you see them wrap up the rug you picked. When I opened mine, it wasn't a rectangle or a square — instead one end tapered down to the other. It was a trapezoid, a quarter of the rug was definitely missing. They were good — I thought I had worked out a great deal and was actually pretty proud of myself until I unrolled it at home.
When not working, what do you like to do?
Spend as much time outside as possible — hiking, camping, climbing, skiing.
Since we focus on horticulture, we have to ask: What's your favorite fruit or vegetable?
Favorite is nectarines. They have the perfect amount of tartness and sweetness, with no peach fuzz.
What are you most looking forward to with your future at the Horticulture Innovation Lab? 
I really hope I can be, and the Horticulture Lab at UC Davis will be, working in this capacity for a long time. The intersection of horticulture with other fields — social studies, gender studies, economics, plant sciences, etc. — makes the Horticulture Innovation Lab feel incredibly dynamic, especially considering the motivation and expertise provided by the management team and the researchers.
The Horticulture Innovation Lab currently has Regional Centers in Thailand and Honduras. The program also has a demonstration center on the UC Davis campus. For more information, contact Archie Jarman at  rajarman@ucdavis.edu.