In a corner of the UC Davis campus, there is a new garden plot with fresh mulch, thriving vegetable plants, young seedlings, and a small shed.
Until this week, there were no signs on this mysterious plot. If you're at UC Davis, you may have walked by and wondered, "What's growing on over there?"
This is the Horticulture Innovation Lab's new center at UC Davis, a work in progress.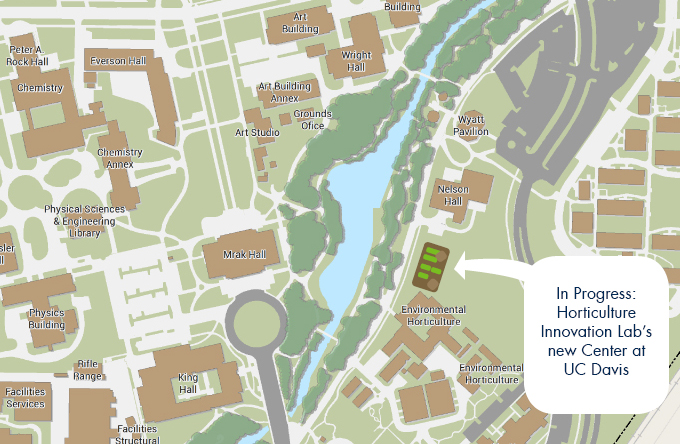 Though our program is headquartered here in California, the Horticulture Innovation Lab has two Regional Centers at universities in Honduras and in Thailand. These centers demonstrate agricultural technologies that can help smallholder farmers better grow fruits and vegetables. With this new demonstration site, we will now have a center near our UC Davis office to show visitors and curious campus neighbors a peek into the Horticulture Innovation Lab's work and some of the tools we use in developing countries around the world.
So far, a small team of students, staff and faculty members have put down mulch, installed raised garden beds, and built a solar-powered coldroom (complete with a CoolBot).
Along with staff member Britta Hansen, students-now-graduates Emily Baker and Robert Duggan have been busy planting and caring for an array of vegetables. They selected vegetable varieties common to Africa and Asia for each bed, with seeds from the World Vegetable Center (AVRDC) and USDA-ARS. Among the plants are varieties of amaranth, spider plant, nightshade, nakati, moringa, jutemallow, spinach, pumpkin, cucumber, beans, and more.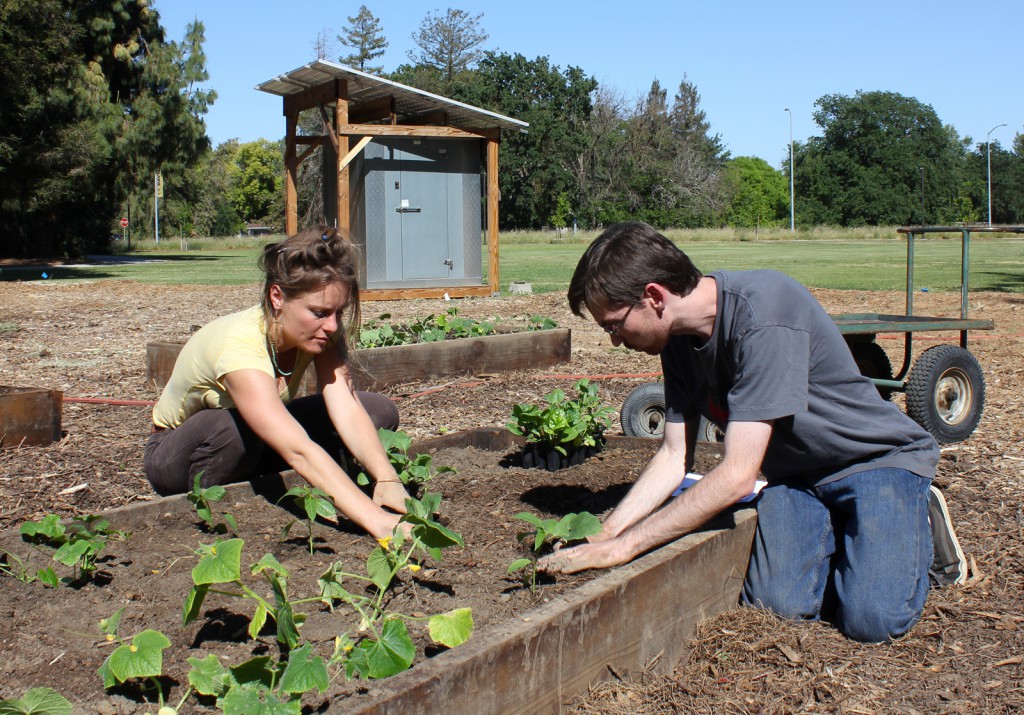 There is still more work to do.
Most recently, faculty members Michael Reid and Jim Thompson have been building a chimney solar dryer and a zero-energy cool chamber, using simple materials. The team also installed some temporary signs identifying the vegetables and the technologies with some basic information.
In the near future, our team will be working with the UC Davis Arboretum and Public Garden on finishing details, including official signage, paths, and fencing. Since this will be a working site, we expect there will always be a little more work to do — more vegetables to plant, new agricultural tools to try.
In the coming months, we hope to invite the campus community to an official launch event. But in the meantime, feel free to pause on your walk by and check out how those African varieties of amaranth, cowpea and spider plant are faring in this California weather.
Update: We're holding our grand opening on Friday, Oct. 16. Come explore the center, enjoy some refreshments and take home a souvenir plant. We will be celebrating World Food Day 2015 that day by showing some of the ways UC Davis uses agriculture around the world to reduce poverty.
More information:
Technologies on display at this site:
The CoolBot helps small-scale farmers cool fresh produce inexpensively and effectively, to reduce postharvest losses.
The chimney solar dryer is a low-cost way to preserve crops, with a more efficient design by UC Davis faculty members.
What is the zero-energy cool chamber?
A few of our related research projects: