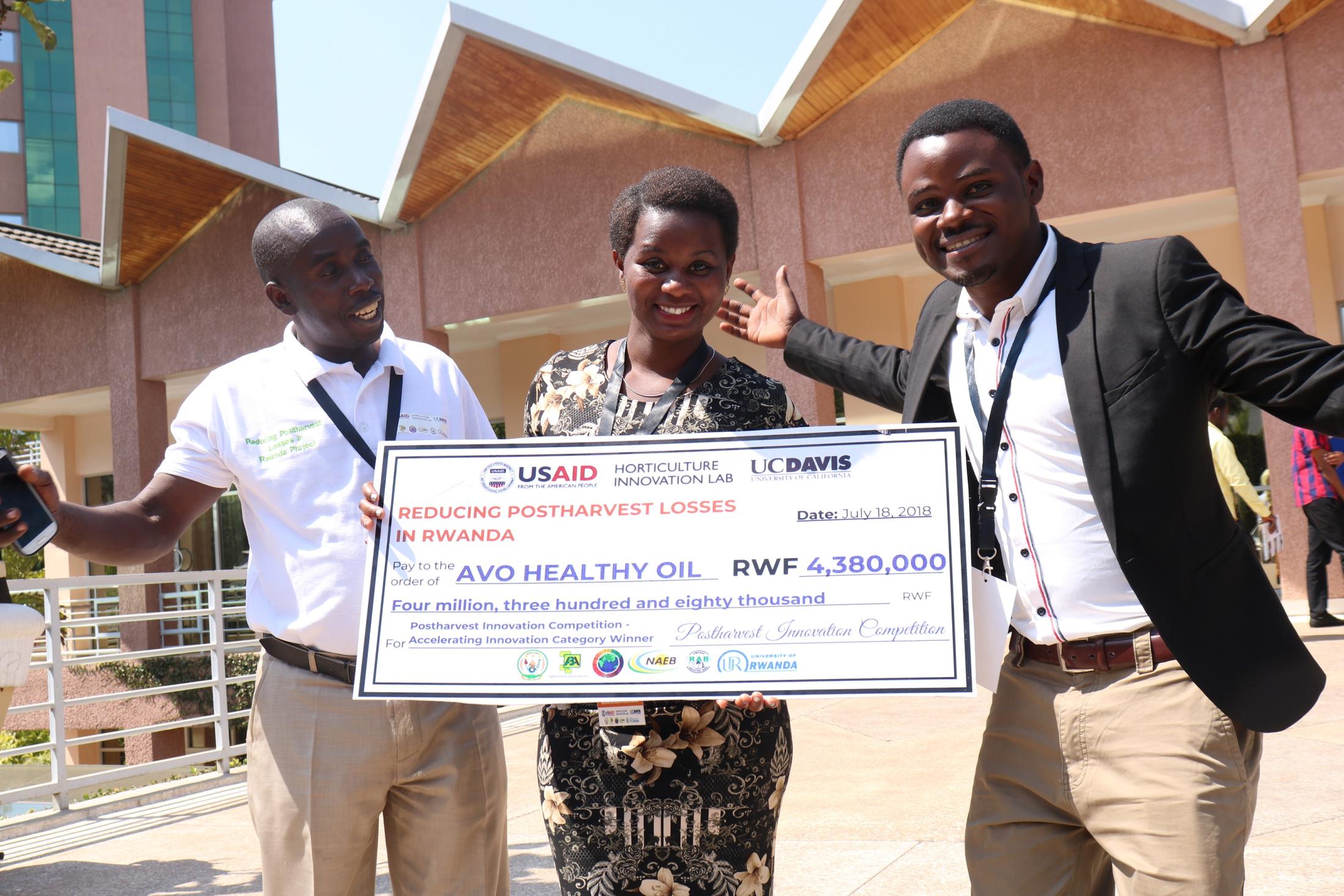 Training sessions, conference and innovation competition highlight entrepreneurial opportunities for reducing postharvest losses
A Horticulture Innovation Lab team hosted the first-ever "Rwanda Postharvest Week," in Kigali recently, with five days of training and conference events culminating in the Postharvest Innovation Competition.
Winners of the competition were 13 burgeoning enterprises that received a cumulative total of $50,000 (44,054,000 Rwandan francs or RWF) in seed funding for their postharvest technologies and start-up businesses.
Other events during Rwanda Postharvest Week included a conference attended by 100 people and a two-day postharvest training for agronomists and farming cooperative leaders. The week also included a parallel event organized by the Postharvest Education Foundation, which held a two-day workshop to graduate 33 new postharvest trainers from its year-long e-learning course. 
Entrepreneurs win funding to scale-up value-added products, waste-reducing services
The competition's winning projects ran the gamut from a traditional chili sauce made from habanero chilies, ginger, garlic and rosemary to a cold storage service provider.
Other prize-winning ventures include a jam made from tamarillo or tree tomato, instant porridge concocted out of carrots and beet roots and a pumpkin oil company that seeks to employ youth.
Competition participants ranged from start-ups in the product development stage to young businesses that have already launched a product in the market. Innovations were judged based on their economic opportunity, value to customers, place in the value chain and financial sustainability.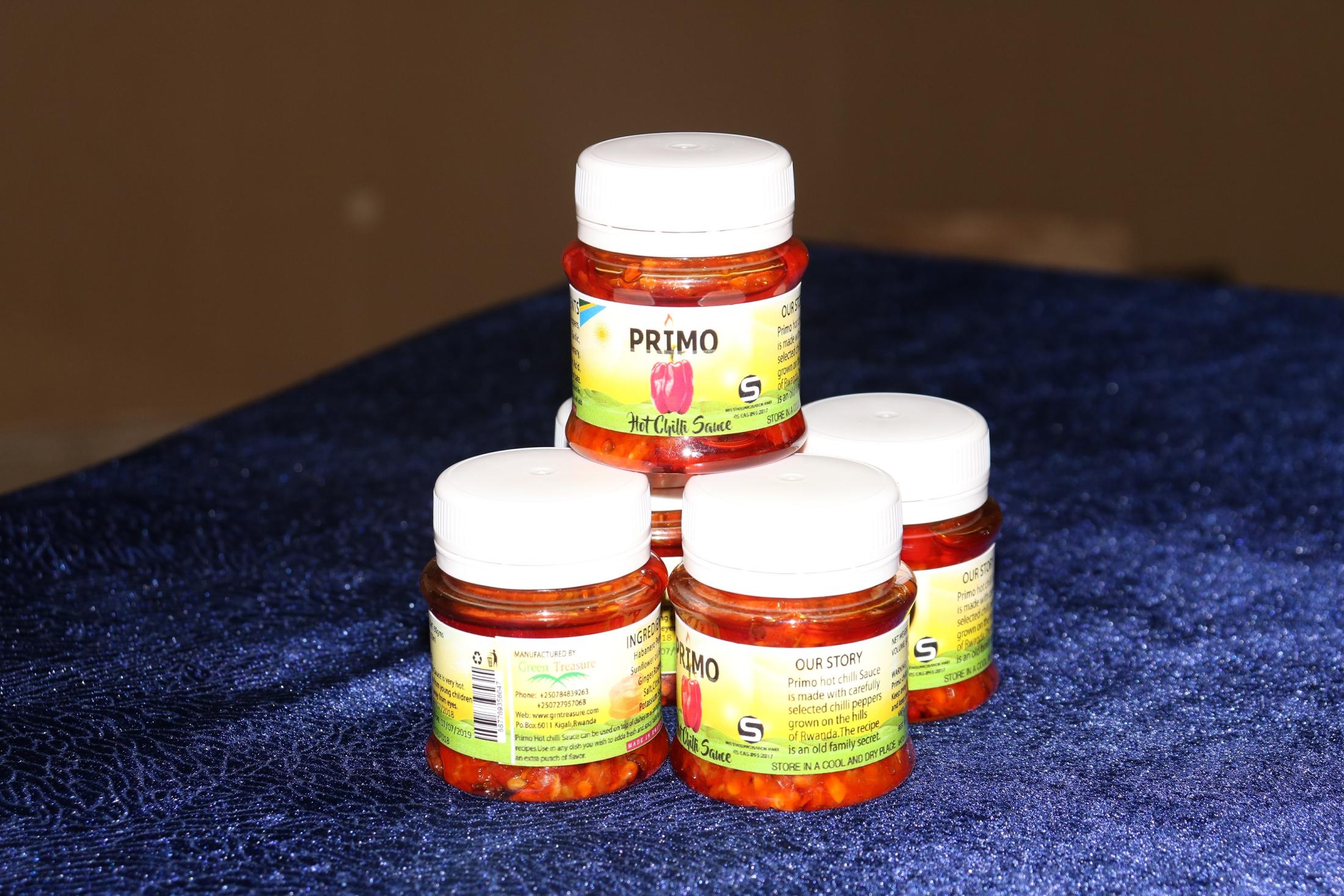 Contestants started their participation in the competition two months earlier, submitting an executive summary of their postharvest innovation and attending an agribusiness development training led by Gurbinder Gill. Gill is an international expert in agribusiness development, marketing and business cycles and leads the Horticulture Innovation Lab "Reducing Postharvest Loss in Rwanda" project.
Semi-finalists were selected and then attended a workshop to hone their ability to create professionally polished and persuasive "pitch deck" slideshows to pitch their innovation to investors. For the second round of the competition, they were asked to submit a pitch deck and financial projections for their enterprise. From the third and final round, thirteen contestants were selected to receive seed money for their innovations and received coaching on pitching their decks. 
Then during Postharvest Week, the 13 contestants presented at the Postharvest Conference and vied for an additional $2,000 in funding at the pitch competition. Akanyana Sharon won the popular vote and additional funding with her Ishyo Foods and tamarillo fruit jam.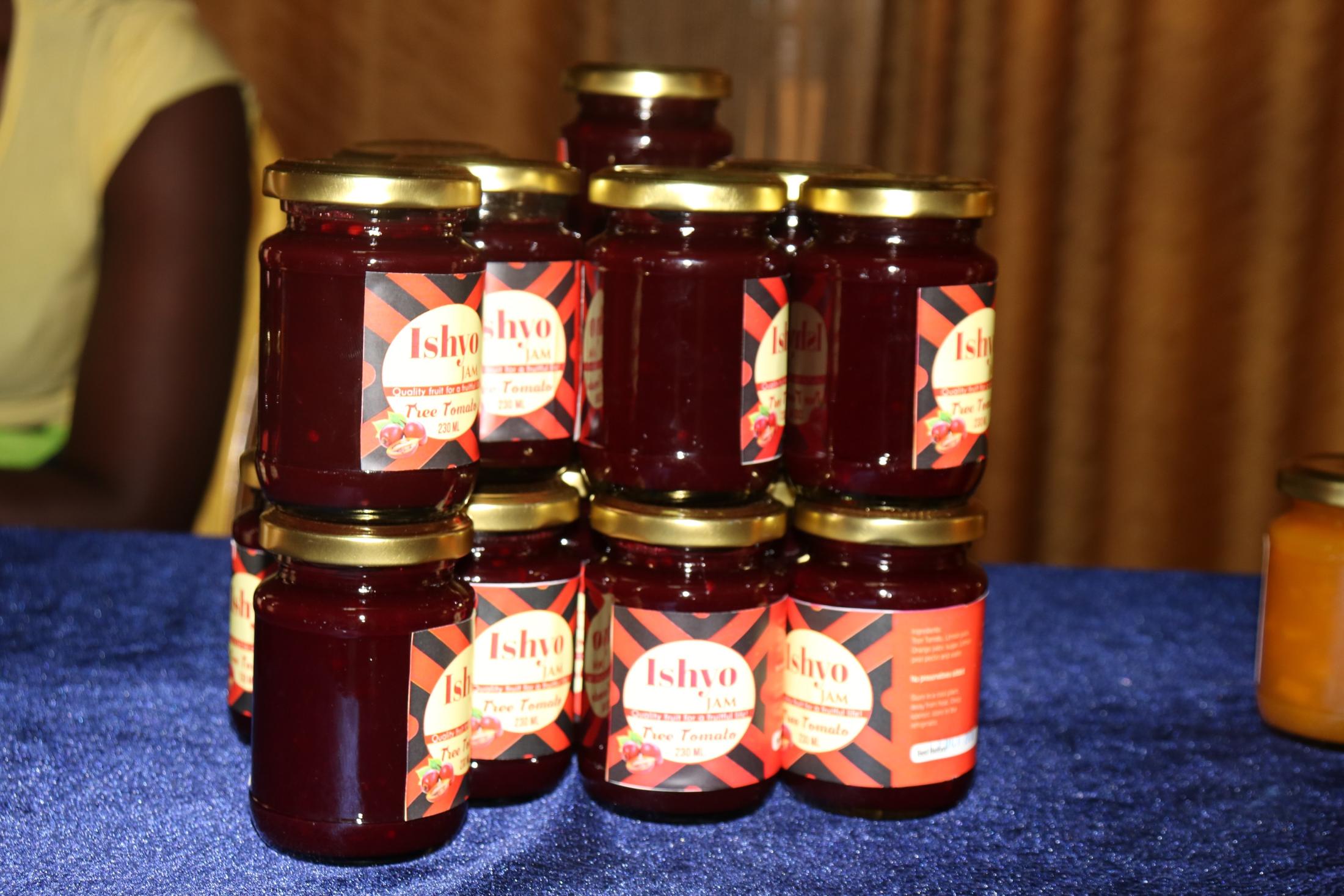 Postharvest Innovation Competition winners highlighted
Competition winners were awarded in three different stages of innovation.
Innovators in the "Acceleration Stage" have a product that has already been introduced to the market and are ready to accelerate the growth:
Elyse Habumukiza of Ingabeyacu Social Enterprise won RWF 4,380,000 or the equivalent of $5,000 USD. Ingabeyacu Social Enterprise manufactures Kero Instant Porridge, crafted out of carrots, beetroots and other vegetables. Habumukiza will use his winnings to purchase equipment to make the porridge.
Niyidukunda Mugeni Euphrosine of Avo Healthy Oil Company received RWF 4,380,000. Avo Healthy Oil Company extracts avocado oil and makes avocado soaps and avocado flour. Euphrosine will use the money to purchase processing equipment.
Petit Vuningoma of Green Treasure received RWF 4,380,000. Green Treasure produces Primo, a spicy chili sauce crafted out of habanero chili, garlic, ginger and rosemary. Vuningoma will use the money to pay for chili processing equipment.
Dieudonne Twahirwa of Gashora Farm Ltd. received RWF 4,380,000. Gashora Farm Ltd. processes chilies and makes Didi's Chili Oil. Twahirwa will use his winnings to purchase chili processing equipment.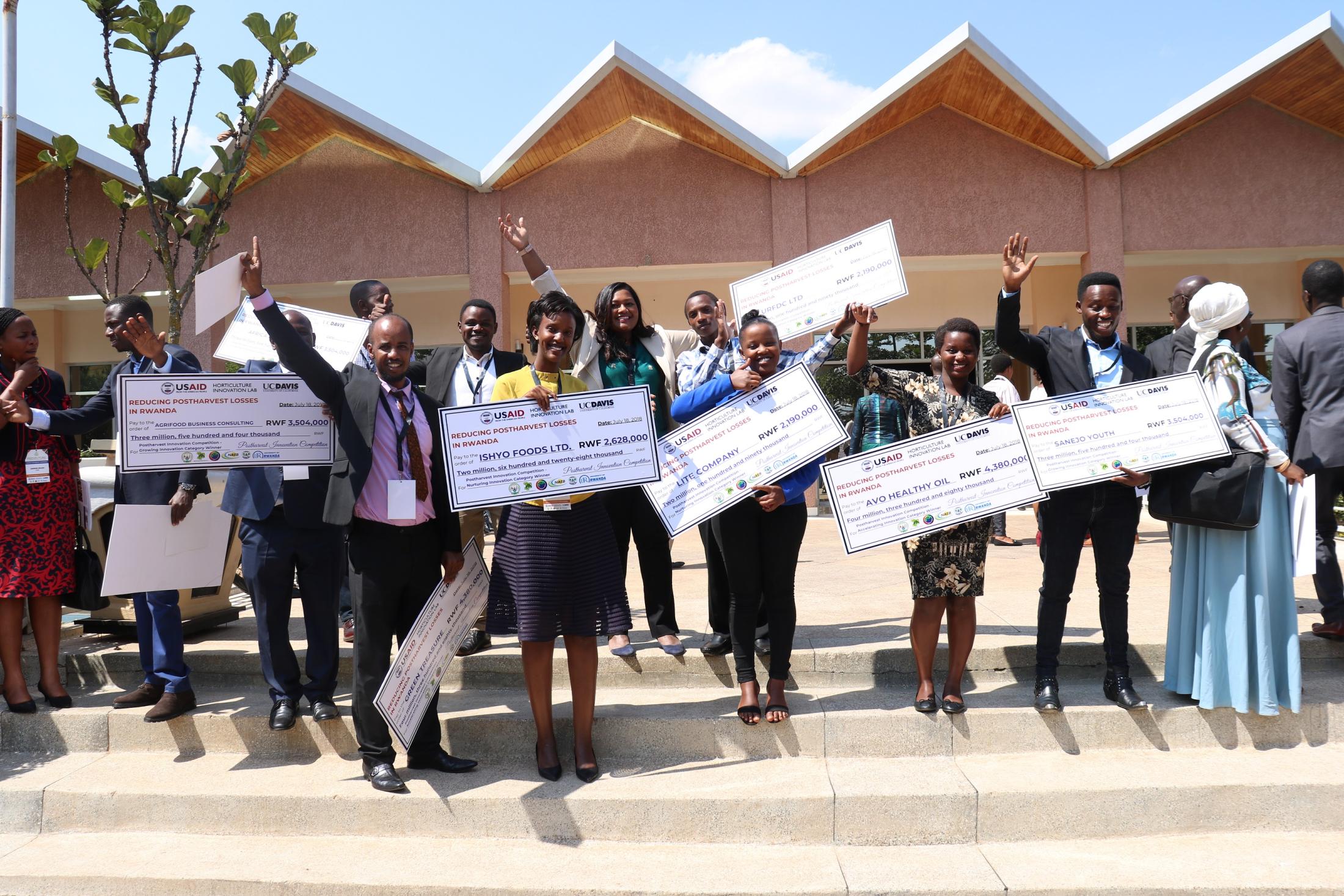 Innovators in the "Growth Stage" have a product on the market and are in the process of building business models poised for success:
Seraphin Niyonsenga of Agrifood Business Consulting Ltd. received RWF 3,504,000. Agrifood Business Consulting Ltd. seeks to improve access to the DryCard and chimney solar dryer. Niyonsenga will use the money for machinery and training.
Serge Ganza of Africa Food Supply Ltd. received RWF 3,504,000. Africa Food Supply Ltd. is working to solve postharvest loss by providing postharvest transportation services. Ganza will use his winnings to purchase crates and pay for transportation services.
Fraterne Manishimwe of Sanejo Youth Ltd. received RWF 3,504,000. Sanejo Youth Ltd. is a social enterprise that aims to provide employment opportunities for youth while processing pumpkin oil and making pumpkin baked goods. Manishimwe will use the money to pay for equipment.
Innovators in the "Nurturing Stage" are in the early stage of business with a product prototype and are planning to test their business model:
Gakwaya Titus of TKEA Engineering & Agrotechnology, a CoolBot installation and rental company, received RWF 2,628,000. He will use the money to purchase CoolBots for his company.
Akanyana Sharon of Ishyo Foods which manufactures tamarillo fruit jam received RWF 2,628,000 and also received RWF 1,752,000 for her winning pitch at the conference. She will use her winnings to purchase equipment.
Furaha Minga of Kigali Tomato Industry Ltd. received RWF 2,628,000. Kigali Tomato Industry Ltd. is a tomato processing company currently focused on manufacturing tomato paste. Minga will use the money to purchase tomato processing equipment.
Lilliose Umubyeyi of Lite Company Ltd. received RWF 2,190,000. Lite Company Ltd. manufactures mushroom soup powder and mushroom cookies. Umubyeyi will use the money to purchase processing equipment.
Juvenal Kabagambe of Urban and Rural Farming Development Company Ltd. (URFDC) received RWF 2,190,000. URFDC provides food gardening and agro-extension services and is currently in the process of developing technologies to combat postharvest losses. Kabagambe will use the winnings to purchase tools and pay for prototyping.
Gaudence Nishimwe of Organic Edible Coating Company Ltd. received RWF 1,752,000 to conduct experiments on the efficacy of her aloe vera-based food preservative.
Reducing postharvest losses in Rwanda
The events of Rwanda Postharvest Week and the Postharvest Innovation Competition were hosted by a Feed the Future Innovation Lab for Horticulture project focused on reducing postharvest losses in Rwanda.
The team has also established three Postharvest Training and Services Centers in Rwanda, one at the University of Rwanda, another at the Rwanda Agriculture Board and a third at the National Agricultural Export Board. The events, centers and other training activities are designed to build capacity among agriculturists and entrepreneurs, ultimately strengthening the postharvest sector in Rwanda.
The project's research team has also evaluated postharvest losses in Rwanda across the value chains of tomatoes, green chilies, sweet potatoes and green bananas. Each postharvest loss assessment identifies why postharvest loss occurs and where it is occurring, combining three methodologies of analysis.
More information: