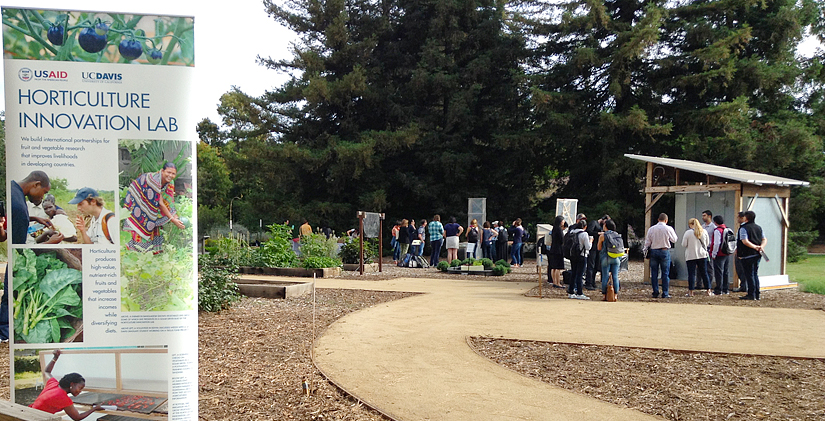 Thriving vegetable plants, new experiments in progress, visitors exploring agricultural tools, and an upcoming gardening contest have been keeping the team behind the Horticulture Innovation Lab Demonstration Center busy recently.
Here's an update about what we've been cultivating at our center on the UC Davis campus.
Exploring postharvest technology demonstrations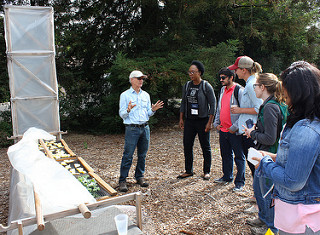 About 65 visitors from 12 countries toured through the Horticulture Innovation Lab Demonstration Center on campus last week, as they participated in the UC Davis Postharvest Technology Short Course. The group of researchers, students and agricultural professionals were participating in a two-week course to learn about the science behind caring for fruits and vegetables after harvest, to increase quality and reduce postharvest losses.
The visitors rotated through demonstrations of some of the low-cost technologies that Horticulture Innovation Lab researchers use with farmers in developing countries—including a solar-powered CoolBot, the UC Davis chimney solar dryer, and the zero-energy cooling chamber.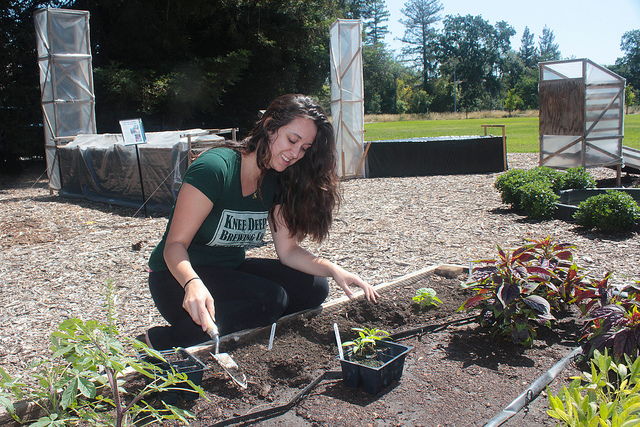 African vegetables growing
Elise Brockett, our student farming assistant, transferred vegetables from their nursery in the greenhouse into the field recently. The demonstration center has one garden bed focused on vegetable varieties from Africa, including:
spider plant
Lagos spinach
African nightshade
groundnut from Uganda
vegetable amaranth
vegetable cowpea
pumpkins from Ethiopia
The other large, raised garden bed is focused on some Asian vegetables, including:
water spinach
eggplant from India
cucumber from Bangladesh
common bean
mungbean
Experiments drying fruits and vegetables for nutrition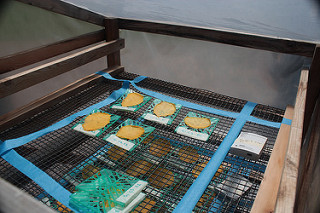 Jamey Smith, a UC Davis graduate student studying international agricultural development, has been running an experiment at the demonstration center that compares two different ways of drying fresh fruit to see whether the drying methods might affect the fruit's nutrient content. The experiment calls for drying sliced mango and sliced tomato in a traditional cabinet solar dryer and also with zeolite-based drying beads. In comparison to the solar dryer, the drying beads don't heat up the fruit as it dries out. The dried fruit slices are being analyzed for nutrition content — specifically, Vitamin C, Vitamin E, and the precursor to Vitamin A — to find out how heat during drying might affect nutrient content of mango and tomato.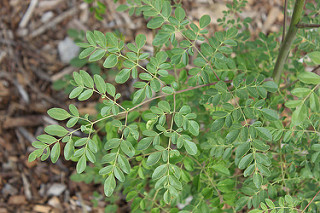 Speaking of solar dryers, researcher Carrie Waterman with the UC Davis Department of Nutrition built her own UC Davis-designed chimney solar dryer for future experiments at the demonstration center. Waterman is focused on moringa, a potential "superfood," and will be testing methods for processing moringa to maintain aspects of its nutrient profile. Also called drumstick, moringa is a plant grown in many parts of the world with a growing reputation as a highly nutritious, highly tenacious plant able to convert poor growing conditions into healthful foods or supplements (here's a video intro to Waterman's moringa research).
Join us for 'Pitch-and-Plant' contest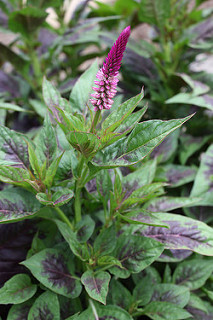 Lagos spinach, an amaranth, is eaten for its leaves and grown in the African garden bed at the Horticulture Innovation Lab Demonstration Center. What would you pick to grow?
This summer we're inviting students and others on the UC Davis campus to share their bright ideas and green thumbs with the Horticulture Innovation Lab Demonstration Center, to help us fill a few raised garden beds with interesting plants.
So, we're starting a "Pitch-and-Plant Gardening Contest," for students and UC Davis community members who might want to get their hands dirty in our garden beds. First, pitch us your creative ideas for what you would plant in one of our small, raised beds. If your idea is among our favorites, then we'll invite you to plant your ideas and garden with us for the rest of the summer.
Get started by sending us your pitch in three slides by Friday, July 1.  Read the rest of the Pitch-and-Plant contest details here (PDF)
More info