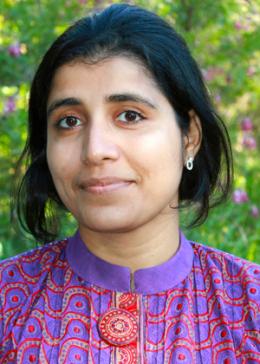 Alumni
Amrita Mukherjee previously worked for the Horticulture Innovation Lab management team as an assistant specialist in Bangladesh, serving as the local lead for a Horticulture Innovation Lab project focused on examining nutrition impacts of horticultural innovations, in collaboration with the Nutrition Innovation Lab. Her responsibilities included coordinating research experiments on postharvest management of vegetable crops; monitoring and evaluation of project activities; conducting training and workshops; and providing other technical support by developing manuals and outreach training materials.
In the past she also worked with the Horticulture Innovation Lab on a project for sustainable potato storage in Bangladesh, in partnership with the International Potato Center (CIP). She speaks English, Hindi and Bengali and has experience working with the CoolBot and chimney solar dryer technologies. While studying biotechnology, her research focus was identifying and improving heat-tolerant crops and seeking ways to reduce heat stresses in agricultural crops.
She holds a Master of Science degree in Biotechnology from Bangladesh Agricultural University and Bachelor of Science in Agriculture from Khulna University.
Favorite fruit:
Mango, which has high economic and nutritional value.
Favorite vegetable:
Sweet potato, that also has greater nutritional value and less labor intensive crop
What inspires me:
To work with diversified cultural team to learn more from their culture, values and tradition.
Organization(s)