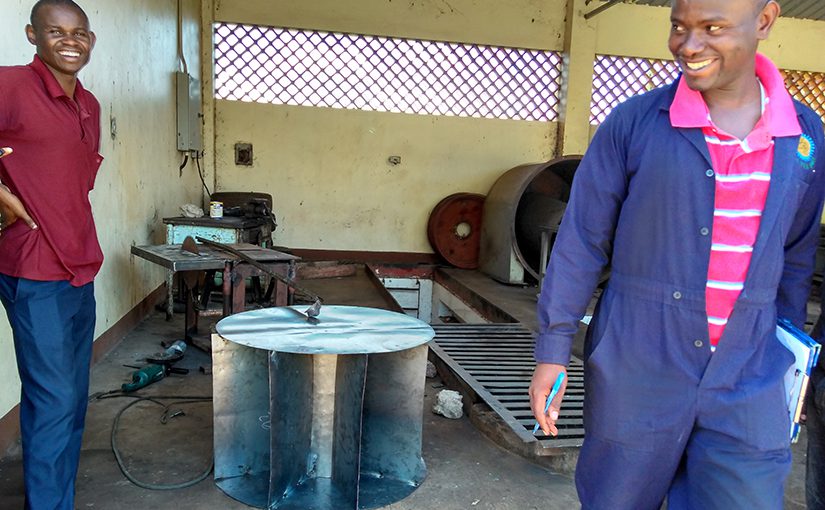 In Uganda, President Yoweri Museveni attended a graduation ceremony this month at Busitema University, lauding the institution and its students for their work with irrigation innovations.
Students and faculty members at Busitema University are part of a Horticulture Innovation Lab project focused on developing farmer-led irrigation solutions. The project is led by Kate Scow of UC Davis, with additional partners from the Teso Women Development Initiative, the National Semi Arid Resources Research Institute and others.
"I want to encourage you. You're on the right path, and I will give you all my support," Museveni can be heard saying in the video from NTV Uganda, below. "A university is the place for innovations and knowledge generation. It is also a place where the future of our youth is forged through education and where our people's lives are changed through community outreach."
Among the irrigation prototypes featured at the ceremony (and in the video) was a self-propelled "hydro wheel," which is designed to pump water from a stream to farmers' plots. The hydro wheel was designed by one of the day's graduates: Goden Nawamanya, who earned a bachelor's degree in Agricultural Mechanization and Irrigation Engineering. The hydro wheel is currently being tested at the Horticulture Innovation Lab's demonstration site in Tente, Busia.
"This is going to help the farmers so that they don't have to rely on rainfall to irrigate their crops," explains Marion Engole, lecturer at Busitema University in the department of Water Resources and Mining Engineering in the Faculty of Engineering.
Catherine Wandera of Busitema University has coordinated the team's activities with the university and gathered an active team of students to participate in the project as research assistants and interns. The Horticulture Innovation Lab project has included students studying irrigation engineering and agronomy.
Also graduating that day was Andrew Ebic, who worked as a research assistant on this project and earned a master's of science degree in Irrigation and Drainage Engineering. His research with the project focused on land suitability assessment for surface irrigation in the Tororo district.
"I am beyond proud to see these students show off their innovations and their efforts helping farmers. It is wonderful that they have been working so closely with these rural communities—even the president himself is remarking on it," said Scow, back at UC Davis.
The project involves using a participatory research approach to help farmers in Eastern Uganda identify, adapt and implement small-scale irrigation technologies for vegetable production. This project is supported by the Horticulture Innovation Lab with funding from the U.S. Agency for International Development, as part of the U.S. government's global hunger and food security initiative called Feed the Future.
More information: