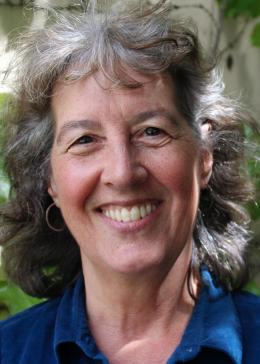 Alumni
Based In
Davis, California (USA)
Kate Scow is Professor of Soil Microbial Ecology in the UC Davis Department of Land, Air and Water Resources. She teaches soil science and soil microbiology and has an active research group of students and postdocs working on soil health and soil biodiversity. She is also chair of the UC Davis International Agricultural Development graduate program, a 50-year-old master's degree program that has trained leaders in agricultural development all over the world.
Scow's research program investigates relationships between soil microbial diversity and critical soil functions: biogeochemical cycling, soil structure, organic matter. Her work also explores connections between soil biology and the rapidly evolving concept of soil health. She has investigated how indigenous microbial communities help in restoring polluted ecosystems and designing low-cost treatment systems to promote these biologically-based solutions for clean-up. With support from the Horticulture Innovation Lab, Scow also works with smallholder farmers in Uganda, using participatory research approaches, local knowledge and a focus on gender issues, to find site-specific, small-scale solutions for irrigation technologies and governance. 
Scow is also director of the Russell Ranch Sustainable Agriculture Facility which hosts a long-term experiment exploring relationships between different management practices, climate, and sustainability (economic, agronomic, economic) of row crop agroecosystems. She also teaches Soil Biology in the Agroecology Master's of Science program at Maringa State University in Parana, Brazil.
Scow received her bachelor's degree in biology from Antioch College and her master's and doctoral degrees in Soil Science (Agronomy) from Cornell University.
What is your favorite travel tip?
Take very little. It connects you more deeply to where you go.
Favorite agricultural advice?
Feed the soil. She is hungry.
When I'm not working, you can find me…
Probably working.
Organization(s)