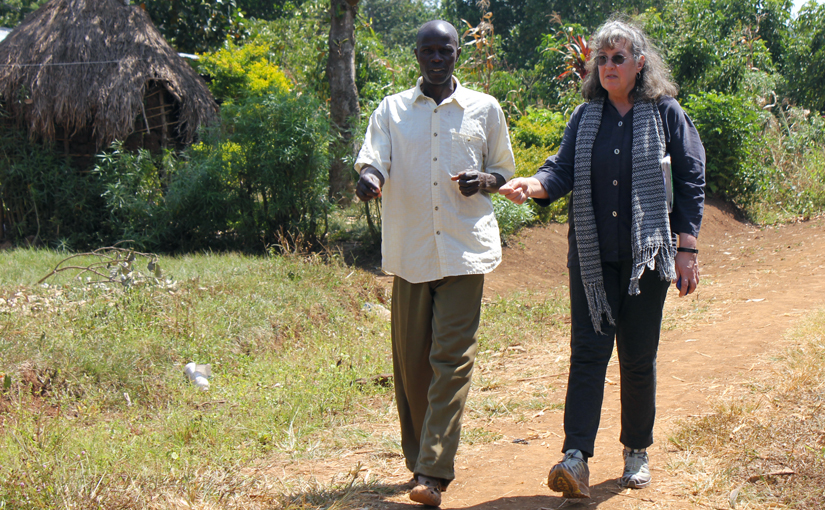 Agricultural scientists from five land-grant universities have been awarded $4.2 million to research ways to improve livelihoods for smallholder fruit and vegetable farmers in developing countries.
Each of the new projects brings together an international research team under the Horticulture Innovation Lab, with funding from the U.S. Agency for International Development and leadership by the University of California, Davis. The collaborative program is part of Feed the Future, the U.S. government's global hunger and food security initiative.
Does horticulture improve farmers' lives?
How growing fruits and vegetables can improve the lives of farmers and their communities — by improving aspects of nutrition and gender equity — are the themes of two new projects, each funded for five years.
"We're making a concerted effort to understand how horticulture can make a difference in the lives of the world's poorest people," said Elizabeth Mitcham, Horticulture Innovation Lab director and UC Cooperative Extension specialist at UC Davis. "We hope the results from our gender and nutrition projects will inform policymakers and donors about the benefits of supporting horticulture for development."
Janelle Larson of Penn State will lead a $1.3 million project in Honduras that will analyze how participating in the horticultural value chain can empower women and support gender equity. The analysis will also identify policies, regulations or cultural norms that limit women's participation in horticulture. Then the team will develop curriculum and deliver training to reduce barriers for women, with partners at the Panamerican Agricultural School, Zamorano University. (More information about this project from Penn State)
James Simon of Rutgers, The State University of New Jersey, will lead a $2 million project focused on improving dietary diversity through enhanced access to African indigenous vegetables in Kenya and Zambia. Once considered "famine foods," these indigenous vegetables such as amaranth, African nightshade and spider plant have increased in popularity — but meeting market demand still presents several production and marketing challenges. This project will work to improve the value chain for indigenous vegetables and will monitor how changes to vegetable production and marketing affect household consumption of these nutritious vegetables.
Spin-off projects remix lessons learned
Three new grants take completed projects in new directions, with ideas that came from insights, surprises and lessons learned during previous Horticulture Innovation Lab projects. These "spin-off" grants are each funded for $300,000 over two years, led by researchers at UC Davis, the University of Wisconsin-Madison, and North Carolina Agricultural and Technical State University.
Marketing vegetables grown with conservation agriculture methods in Cambodia and Nepal: In an earlier project, Manuel Reyes of North Carolina A&T State University worked with women farmers in Cambodia on field experiments that compared traditional growing methods for vegetables to conservation agriculture methods, which can reduce labor while providing environmental benefits. The labor-saving methods were so popular with the farmers that many of them asked to cut the experiment short — so that they could adopt the newer methods on all their fields, without the traditional tilling and hand irrigation of the control fields. In this new spin-off project, Reyes and his team will focus on helping smallholder farmers in Cambodia and Nepal market the vegetables grown with these water- and labor-saving practices, developing a brand that highlights their conservation principles. Project partners will include the Royal University of Agriculture of Cambodia, the Agricultural Development Denmark Asia organization, and International Development Enterprises (iDE).
Expanding tomato grafting for small businesses in Honduras and Guatemala: This new project led by James Nienhuis, of UW-Madison, grows from previous work first evaluating tomato and chili varieties, then producing vegetable seed locally with women farmers. This new project will evaluate grafted tomatoes for local conditions and provide training to women farmers for small nursery businesses, with local partners at Catholic Relief Services, Zamorano Panamerican Agricultural School, and the Fundación Hondureña de Investigación Agrícola. The team will also include Horticulture Innovation Lab partners at The Ohio State University who have trained African farmers in vegetable grafting.
Irrigation solutions for off-season vegetables in Uganda: For this project, farmer groups will participate in a "co-innovation" process that will focus on small-scale irrigation for dry-season vegetable production, with leadership from Kate Scow of UC Davis. The idea to focus on irrigation came from workshops held during a previous Horticulture Innovation Lab project focused on farmer field schools and participatory agricultural extension models for vegetable growers in Uganda. The group has also received funding from Michigan State University's Global Center for Food Systems Innovation to build capacity in relation to irrigation, and will work on this new innovative irrigation project with Busitema University, National Semi Arid Resources Research Institute (NaSARRI), Teso Women Development Initiatives (TEWDI) and other local partners.
Competitive grants, collaborative program
The competitive grant process began in August, when the program issued an open call for proposals from U.S. university researchers. One call for proposals about reducing postharvest losses was not funded, though the management team expects to move forward with work to improve postharvest practices later this year. Additional grants are being finalized for projects that will scale up use of proven horticultural tools and technologies.
The Feed the Future Innovation Lab for Collaborative Research on Horticulture (or "Horticulture Innovation Lab") builds international partnerships for fruit and vegetable research that improves livelihoods in developing countries. The program is one of 24 Feed the Future Innovation Labs funded by USAID, five of which are led by UC Davis. For more information about the Horticulture Innovation Lab, visit http://horticulture.ucdavis.edu.
This announcement originally appeared on the Horticulture Innovation Lab website.